Ambien Epically Shades Roseanne: 'Racism Is Not A Known Side Effect'
by Christina Marfice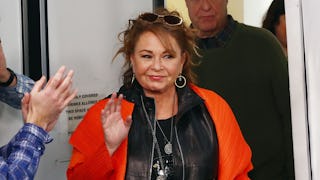 Image via Astrid Stawiarz/Getty Images for SiriusXM
No one's buying that Ambien is what made Roseanne a racist
By now, unless you live under an actual rock, you've surely heard about this week's major controversy: The ABC reboot of Roseanne was cancelled after its star, Roseanne Barr, went on a grossly, undeniably racist Twitter rant in which she compared former Barack Obama advisor Valerie Jarrett to Planet of the Apes. She also tried to blame the whole thing on taking an Ambien and tweeting in the middle of the night, but the company that makes Ambien was quick to clap back at that with an epic tweet.
In a now-deleted tweet, she tried to blame Ambien, a powerful sleep aid, for her racism. Thank God we have the internet to screenshot things forever.
Never mind the fact that Barr has literal decades of documented racism and bigotry behind her. Also, raise your hand if you've popped an Ambien and not said anything racist. Thought so.
Sanofi, the company that produces Ambien, was definitely not having this.
"People of all races, religions and nationalities work at Sanofi every day to improve the lives of people around the world," the company said in a statement posted to Twitter. "While all pharmaceutical treatments have side effects, racism is not a known side effect of any Sanofi medication."
And Sanofi wasn't the only account to get in on the fun. Dictionary.com weighed in by defining "Ambien," and, as suspected, the definition has nothing to do with the kind of bigotry Barr has displayed for much of her adult life.
This was all after Barr attempted an apology (while still liking other tweets that backed her up or made similarly racist comments), but the damage was already done. ABC announced yesterday that Roseanne will not return for a second season as planned, despite high ratings.
The real question to come from this whole debacle is why did ABC give Barr her revival show in the first place? Why wasn't any of her past racism enough to keep her off our TV screens? What was it about this particular bout of racism that tipped the scales for ABC, causing them to pull the plug on Barr's show?
We may never know, but at least justice prevailed eventually, even after one successful season.
This article was originally published on