AMC Theaters Offers Kids $4 Movie Deal All Summer -- Yes, Snacks Too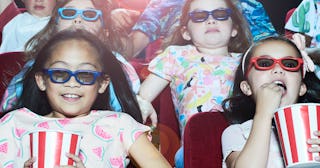 Flashpop/Getty
This is the best movie deal of the summer
There's nothing better than a day at the movies when you're a kid. You get to watch a much-anticipated flick, get treats, and hang out in a super comfy (usually reclinable) chair with your family and friends for a few hours. Now, AMC Theatres is making the experience a whole lot more affordable for us with their "Summer Movie Camp" program.
This summer, AMC Theatres is offering a deal you have to see to believe — you can watch a kid's movie and get a "Kid's Pack," which includes: popcorn, fruit snacks, and a drink for the low, low price of $4. Seriously, FOUR DOLLARS. For the price of a collapsible shot glass keychain (which is the gift that keeps on giving if I do say so, myself) you can catch a movie and get your snack on. Brilliant.
Beginning June 5 and running through August 14, participating AMC Theaters are offering discounted showings of PG movies on Wednesday mornings including movies such as: Smallfoot, Trolls, LEGO Movie, Hotel Transylvania 3, Peter Rabbit, Wonder Park, How to Train Your Dragon: The Hidden World and others.
You don't even need to be a kid (or have a kid in tow) to take advantage of this sweet deal. You just need to be a kid at heart and available on Wednesday mornings. If you do want to send your kid to the movies, those under 12 need to be accompanied by an adult.
"AMC is proud to offer this program to give our AMC CLASSIC communities a fun and safe activity for kids this summer," AMC said in a statement, calling the super fun, very affordable program "Summer Movie Camp."
"What's great about this offering is that mom gets to be the hero by providing a fun experience all family members will love. As a mom, you also get to pass on your childhood experience of having a Coke and popcorn which encapsulates the entire movie-going experience," a Coca-Cola executive tells Scary Mommy.
Companies like AMC and many others are continuously trying to compete with online options like Amazon, Netflix, and Hula and stay relevant and are coming up with innovative options to get families through their doors. And since taking your family to a movie can sometimes cost the price of a small car, this deal is too good to pass up.
This isn't the first time AMC has saved us as adults. They also offer a loyalty program known as the "A-list," allowing subscribers to see up to three movies a week for around $25 a month depending on where they live.
It's a win-win-win for parents trying to keep their kids busy this summer because, let's be honest, after breakfast, coloring, playing Hide-and-Seek, and doing chores, it's still only 8 AM. We need a distraction and a cheap one at that. Thank you, AMC. Thank you.