America, We Need To Get Our Covid Sh*t Together Or This Winter Is Going To Be Devastating
by Christine Organ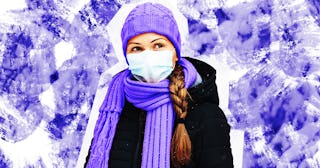 Julia Meslener for Scary Mommy and stock-eye/Getty
Any way you cut it, the news is grim. New coronavirus cases have increased by 30% from just a few weeks ago. 17 states have recently reached all-time high case counts, according to the COVID Tracking Project. And on October 16, U.S. coronavirus cases reached nearly 70,000 in one day – a number we hadn't seen since July.
Hospitalizations are on the rise too. According to NPR, hospitalizations increased in more than 40 states. Unlike previous outbreaks, such as in New York in the spring and in Florida in the summer, the current outbreaks are widespread and widely circulating through rural communities, many of which don't have the hospital capacities to handle these surges. Just last week, a field hospital was opened in Wisconsin to handle the surge in hospitalizations. Fatality rates are likely to follow.
Look, folks. The virus isn't over just because we're over it. Experts warn that the dreaded "third wave" is here.
I'll cut to the chase: we need to get our shit together or we are certain to have dark days ahead. Dark days indeed.
"We are headed in the wrong direction, and that's reflected not only in the number of new cases but also in test positivity and the number of hospitalizations," Caitlin Rivers, an epidemiologist at Johns Hopkins University, told The New York Times. "Together, I think these three indicators give a very clear picture that we are seeing increased transmission in communities across the country."
According to CNBC, last week, the U.S. was averaging roughly 55,000 new cases every day, which was more than a 16% increase than a week ago.
"We are starting from a much higher plateau than we were before the summer wave," Dr. Rivers also said. "It concerns me that we might see even more cases during the next peak than we did during the summer."
These dangerous trends are happening even before the weather gets really cold and drives Americans indoors. Much of the spread over the summer and early fall was likely abated by the fact that Americans could gather outside, which minimizes the risk of transmission. But now, with the weather growing colder and people suffering from serious pandemic fatigue, folks are taking chances. They are pushing the envelope.
Fellow Americans, get it together. We have to turn this around.
Contrary to what Trump would have you believe with his disinformation campaign, this isn't an either/or decision. We do not need to shut the country down. Even Dr. Anthony Fauci – the country's leading infectious disease expert and my personal hero right now – says that things would need to get really, really bad before he'd advocate for a shutdown. What it does take is common sense and basic public health practices.
"It's still not too late to vigorously apply good public health measures, and again I emphasize without necessarily shutting down the country," White House coronavirus advisor Dr. Anthony Fauci told Johns Hopkins University during a recorded Q&A.
Fauci has repeatedly said that our numbers are way too high — that to get it under control, the daily case counts should be below 10,000, instead of above 50,000 as they are now.
"You can't enter into the cool months of the fall and the cold months of the winter with a high community infection baseline," Fauci said. Positivity rate is also "going in the wrong direction" in more than 30 states, he said.
"I'm pretty glum at the moment because it does look as though in the majority of states there's an increasing number of cases," Dr. William Schaffner, an epidemiologist at Vanderbilt University, told CNBC. "There's a growing sense of coronavirus fatigue out there. People really want to get back to the old normal."
One more time for the people in the back: we need to get our shit together.
Stop gathering mask-free with family and friends. Stop going into the gas station or the grocery store without a face covering. Stop gathering in crowded bars and restaurants. Stop making selfish and narrow-sighted decisions, and start thinking about other people.
"We are out of control," said Angela Mora, public health director for the city of El Paso, Texas, told CBS News. "It's not the virus; we are out of control. Because if we practice the proper measures, then we can stop the virus."
I'm not gonna sugar coat things. This isn't getting any easier, and the next few months are going to be rough. The holidays will make all of this even more difficult. There is no doubt about it.
"[T]he next six to 12 weeks are going to be the darkest of the entire pandemic," Dr. Michael Osterholm, the director of the Center for Infectious Disease Research and Policy at the University of Minnesota, warned on NBC's "Meet the Press" on October 18.
But there are reasons to be optimistic. Even though Osterholm said we have a "major problem in messaging," we have made a lot of progress with therapeutics, and vaccines are on the horizon. We know a lot more about how the virus spreads, and ways we can reduce the risks, so mitigation efforts don't have to be an all-or-nothing approach.
"Instead of approaching this with fear and trepidation and dread, we just need to prepare ourselves as much as possible," says Jeff Gardere, board-certified clinical psychologist and associate professor at Touro College of Osteopathic Medicine in New York City told CNBC.
So how do we get through this? It can feel impossible, but remember: we got through it before, and we can do it again. Think back on the ways you coped with the extreme lockdown of March and April.
The Centers for Disease Control cautions that large indoor gatherings with people from outside of your household are a "higher risk activity," and instead suggests having a small dinner party with only people in your household for Thanksgiving.
When you've been with the same "people in your household" 24/7 for the past 8 months, I understand how not holiday-ish this seems, but if it means keeping people healthy and alive, so be it.
There are other ways we can manage the risks this fall and winter. Partner off with another family. Get tested and quarantine (getting tested alone isn't enough) before gathering with anyone who isn't in your household. Wear your masks, and stay outdoors as much as possible. Invest on one of those gas heating lamps if you have to.
Hunker down. Be safe. Take care of yourselves and others.
We will get through this. But it will only draw out if we don't do the right thing, right now.
This article was originally published on