America Ferrera Announces First Pregnancy In The Cutest Way Possible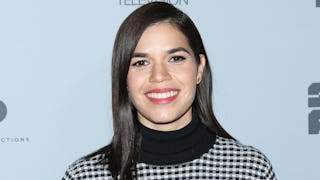 Image via Paul Archuleta/FilmMagic
Ferrera and her husband shared the news on Instagram
Superstore actress America Ferrera and husband Ryan Piers Williams are expecting their first child together, and adorably confirmed the happy news in joint Instagram posts on New Year's Eve.
Ferrera, 33, made the exciting announcement to fans saying, "We're welcoming one more face to kiss in 2018!" along with an adorable photo of her and Williams.
The future parents, a beaming Williams and kissy-faced Ferrara, donned cardboard 2018 shades while the pregnant actress held up a onesie bearing the Spanish phrase "Mas Besos (por favor)," which translates to "more kisses please." Williams reposted the image with the caption, "Making room for new and beautiful things to come in 2018!"
The couple, who have been together for 12 years, married in 2011. "We kind of connected from the get-go on that professional level and that was something that really drew us to each other," Ferrera told PEOPLE after the couple became engaged, "a shared passion for what we do and our work."
I hope they have a shared passion for poopy diapers and midnight feedings, because hello. I kid, I kid, but really — their foundation as a long-time couple will hopefully help them adjust together to their new roles as parents. No matter how famous you are, having a baby turns your world upside down.
Ferrera is having a very busy week, as yesterday was also when it was announced that she's part of a group of over 300 actresses, female directors, writers, agents, and producers speaking out against sexual harassment for everyone.
https://www.instagram.com/p/BdaxrzfDALM/?taken-by=americaferrera
In an Instagram post yesterday, Ferrera thanked those donating to the cause, which assists both men and women who have experienced harassment, discrimination and abuse in paying for legal counsel in court cases against their attackers. "Time's up on tolerating discrimination, harassment and abuse! We're coming for you 2018!!!" she writes.
Between Ferrera's upcoming new arrival and her involvement in both Time's Up and speaking out on behalf of undocumented individuals facing deportation, the actress will have a busy and exciting year. We can't wait to meet her little one and see what other incredible things she accomplishes in 2018.