American Airlines Flight Attendant Makes Mom Of Twins Sob In Upsetting Video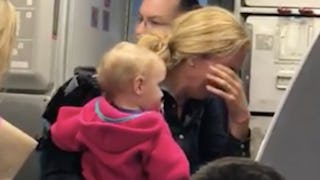 Image via Facebook
American Airlines suspends flight attendant after the incident
Just when you thought it was safe to fly something besides United Airlines, American Airlines steps up with a horrifying video of their own.
Whatever happened to flying the "friendly" skies?
The clip that was posted to Facebook shows the emotional aftermath of an alleged incident between a flight attendant and a passenger.
In the video, a mother is in tears while holding her toddler in her arms, her breakdown allegedly the result of a flight attendant violently taking her stroller from her, hitting her with it – and narrowly missing her child – in the process. Then, when another passenger confronts him, the attendant eggs him on, saying "hit me!"
It's pretty bizarre.
While two wrongs don't make a right, the passenger who stood up for the upset mother was right when he responded to the attendant's claim that he "doesn't know what the story is."
"I don't care what the story is, you almost hurt a baby!"
A story on CNN has further details on the incident, with comments from other passengers who saw what happened before the video starts.
Olivia Morgan was waiting to board when the flight attendant got agitated about the way the mother in the video, who was traveling with 15-month-old-twins, was handling her stroller.
"The flight attendant wrestled the stroller away from the woman, who was sobbing, holding one baby with the second baby in a car seat on the ground next to her…He stormed by me with the stroller and I said something like, 'What are you doing? You almost hit that baby!' And he yelled at me to 'stay out of it!' just like he does in the video."
Just two weeks after United Airlines came under fire for video of a passenger being violently dragged off a flight, American Airlines is responding swiftly.
"We have seen the video and have already started an investigation to obtain the facts. What we see on this video does not reflect our values or how we care for our customers," the airline says in a statement.
You mean you don't train your employees to terrorize moms and babies while starting fights with passengers? Interesting.
The statement continues, "We are deeply sorry for the pain we have caused this passenger and her family and to any other customers affected by the incident." The New York Times reports that the flight attendant has since been suspended.
As these surreal incidents continue to mount, and airline prices don't get any cheaper, it's a wonder people keep flying. I've never heard anything about deadly scorpions on an Amtrak. If only trains would lower their ticket prices by thirty percent!
This article was originally published on