Aerie's New Lingerie Campaign Celebrates Inclusivity In The Best Way
by Thea Glassman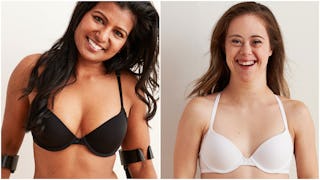 Image via Aerie
Aerie's lingerie campaign is incredibly inclusive
Move over, Victoria's Secret. Aerie for American Eagle, a lingerie retailer, just won the internet by releasing a new campaign featuring models with different disabilities and illnesses. It's inclusive, important, and women across social media are celebrating that their bodies are finally being featured in mainstream advertising.
Abby Sams, one of Aerie's new models, took to Twitter to share shots from her photoshoot. "Aerie just sneakily released some of my photos! Look at this disability representation people!!!" she wrote. "Also look at me because I cant believe it's actually me so yeah."
She also posted a collection of other pictures from the photoshoot, which included a cancer survivor, a model with Down syndrome who is also a Paralympian, and a model with fibromyalgia. Oh yeah, and if you're not already officially in love with Aerie, on top of all the incredibly important inclusivity, they also casually included a shot of ARMPIT HAIR.
https://twitter.com/jetpack/status/1016777106754326528
Comments poured in from women who were so, so happy to see themselves represented.
https://twitter.com/jetpack/status/1016835631434076166
Currently crying all the happy tears right now.
If you head over to Aerie's website, you'll see a whole range of women modeling lingerie. The diversity is pretty stunning (particularly when you're so used to seeing the same body type modeling lingerie over and over again). There are models who are bald. There are models who are older. There's a model with vitiligo.
Yes, yes, and yesssss.
This isn't the first time that Aerie has taken an inspiring stance with their lingerie campaigns. Four years ago, the retailer took the plunge and stopped retouching their photos. They also retooled their messaging and focused on body confidence — something all female clothing brands should take note of.
"We are very passionate about our mission to make all girls feel good about their real selves," Jennifer Foyle, Aerie's Global Brand President, said in a statement. "…#AerieREAL has grown from a no retouching campaign into a movement focused on body positivity and empowerment. Now, more than ever, is a time for women to stand together. #AerieREAL Role Models will encourage girls to love their REAL selves, support one another and share how they are role models, too."