Your American Girl Dolls From The 80's And 90's Could Be Worth A Ton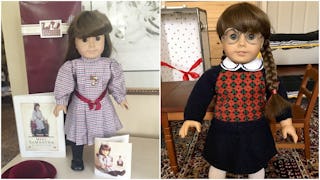 Image via eBay
Your old American Girl dolls could bring in some really big bucks
Dust off your Samanthas, Kirstens, and Felicitys. OG American Girl dolls and their accessories are racking up big bucks on eBay, so head straight to your parents' attic and get selling.
P.S. – I knew that there was a reason I hardcore begged for all of Samantha's velvet hats and tiny purses.
Here's the deal. Your old American Girl dolls could be worth a lot of money especially if they're in their original packaging. So, if you were one of those kids who took meticulous care of their dolls and kept all of the accessories and storybook (remember those storybooks?!) in tip-top shape, it could pay off big time.
"Some of the discontinued dolls from the '90s can sell for thousands of dollars," Bob Richter, a vintage lifestyle expert, told TODAY. "That said, original packaging and condition are everything. What might sell for over $2,000 if it's in good condition with original packaging might only sell for $100 if it's in fair condition without packaging."
For instance, this Samantha doll recently sold for $400 on eBay. Is your nostalgia currently hitting peak levels right about now? Me too.
But a mint condition Samantha could rack in a whole lot more money. According to Dr. Lori Verderame, an antiques appraiser, a Samantha doll with all of her impeccably maintained accessories could be sold for about $4,000.
Meanwhile, a Molly doll (the coolest of the bunch based on my memories as a 7-year-old) pulled in $1,200. She's also up for bid for a whopping $1,500, complete with a whole bunch of outfits and her bedroom accessories.
Not to be outdone, Kirsten, the doll with the cute blonde braids, recently sold for $1,395. Plus, a Felicity and Elizabeth combo is currently going for $1,600.
"In the last two years there's been a rise in collectible values for American girl dolls," Verderame told TODAY. "American girl dolls reference particular eras in history and that drives the market. Collectors also look for dolls that parallel their own history, look like themselves, and are character dolls that come from the same lineage or location like Kirsten (from Scandinavia) or Molly (World War II)."
Okay, so basically, your upcoming homework is to scour your home for these dolls and all their accessories. Also, please bask in the simple days when the things that made you happiest were a brand-new American Girl doll catalogue arriving in the mail.
This article was originally published on