American Girl Truly Nailed It With The 2018 Girl Of The Year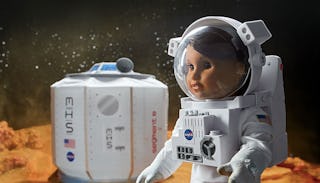 Image via American Girl
The 2018 Girl of the Year has NASA dreams and funky hair
American Girl has announced its 2018 Girl of the Year, and your STEM-obsessed kids are going to be pumped. Luciana Vega is an 11-year-old aspiring astronaut with all the NASA-approved swag to show for it.
Luciana's space-centric clothing and accessories are the result of an American Girl collaboration with NASA. In a press release, the agency explains their involvement. "The focus of the collaboration is the Girl of the Year doll for 2018, an 11-year-old aspiring astronaut named Luciana who wants to be the first person to put boots on Mars. As NASA's human spaceflight focus shifts to deep space, including a return to the Moon, and ultimately, Mars, the collaboration with American Girl is timely."
The Luciana doll comes with a nebula-patterned dress and silver iridescent shoes. She also has a funky purple hair streak sure to thrill kids everywhere who appreciate an authentic style. Another outfit offered for the doll is NASA's Extravehicular Mobility Unit, which is used on the International Space Station. Other accessories include a blue Space Camp flight suit, a Maker Station and a Mars Habitat.
NASA astronaut Megan McArthur Behnken says, "It is so important to find exciting new ways to inspire our next generation of space explorers. I always want to encourage girls and boys to pursue their dreams, no matter how big, and I think it helps to show how those dreams can become reality for any kid."
Behnken was among the team of fellow female scientists who helped conceptualize Luciana and build up her backstory. The others include Dr. Ellen Stofan, former NASA chief scientist; Dr. Deborah Barnhart, CEO of the U.S. Space and Rocket Center; and Maureen O'Brien, the manager of strategic alliances at NASA.
Behnken says, "I was able to follow Lucy through all of her story and adventures, and provide feedback from an astronaut's perspective on the authenticity of her story and the activities that she participated in," Behnken said. "I've been in space and fixed the Hubble space telescope, so I have some perspective on how we use robotics, how we train for robotics."
Erin Teagan authors Luciana's book series where we find the young girl, who is of Chilean descent, winning a scholarship to space camp where she can learn more about her life's dream of becoming an astronaut.
American Girl president Kate Dickinson said in a statement, "Luciana is a role model for today's girls, empowering them to defy stereotypes, and embrace risks that will teach them about failure and success as they chart their own course in life, whatever the goal."
"For us, it's all about building girls of strong character."
Luciana and her entire collection will be available beginning January 1st in the American Girl catalog, website and at all American Girl retail locations in the United States. Her books can be purchased both in stores and online.