'American Idol' Alum's 2-Week-Old Son Tests Positive For COVID-19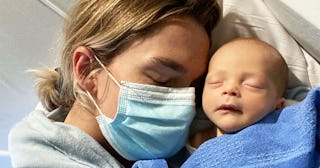 officiallyquigley/Instagram
'American Idol's' Casey "Quigley" Goode shares her 2-week-old son's COVID diagnosis with fans
Casey "Quigley" Goode, influencer and American Idol alum, had a baby boy named Max two weeks ago. Up until yesterday, her Instagram account was full of sweet photos of her new little guy, but her most recent update includes the scary news that the infant has tested positive for COVID-19 and is now in the hospital.
"Max tested positive for COVID-19 early Saturday am. We took him into the ER after he was running a fever in the middle of the night. We had confirmation that he was exposed from direct contact with a medical professional who had cared for him earlier in the week," Goode writes.
The new mom continues: "This has been a total shock to us. I am currently quarantining with baby Max in the PICU. They are treating me as if I have been exposed and are likely positive as well, although I am showing no symptoms yet."
Goode gave birth to little Max in late September and has kept her followers updated as he spent time in the NICU (he was born three weeks early and Goode had a diagnosis of cholestasis).
It was only a week ago that the couple (she shares Max with husband Alex Goode) was allowed to take their son home after eight days in the NICU.
Alex also took to social media yesterday to share the news of his son's diagnosis. "His fever has come down since being admitted, but he has been put on oxygen as a precaution. We are in good spirits but we could also use some positive vibes, so please keep Mad Maxi & Mama Quigley in your thoughts tonight," he writes.
https://www.instagram.com/p/CF78sSdB7I9/
He shared in a video on Sunday that the baby might be able to come home today. "Max is doing very well. He's on kind of oxygen as a precautionary measure. His fever's down. They're talking about discharging him to quarantine at home tomorrow."
Max's hospitalization for COVID comes after a somewhat complicated birth that left Casey unable to hold her son right away. "I labored for under 12 hours and pushed for about 30 minutes before baby's heart rate dropped quite low wouldn't come back up," she wrote. "My OB got into the room and immediately had to vaccum him out. It got really scary at the end as he wasn't crying or moving much when he came out. They took him for some tests and I only got to see him for about three seconds before he went to the NICU."
Although COVID infections in children and babies aren't as common as in adults, Johns Hopkins says children under age two are more likely to require hospital care while ill. As in adults, fever and cough are common symptoms in young children, who can also experience sore throat, excessive fatigue or diarrhea.