This 'American Idol' Contestant Might Be The Next Kelly Clarkson
by Christina Marfice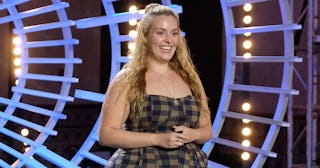 Is Grace Kinstler the next American Idol contestant to watch? The judges sure think so
The season 4 premiere of American Idol pretty much ran the usual gamut, from strange auditions that left fans scratching their heads, to the terrible ones that are most definitely not going to Hollywood. But last night, the show left the best for last — 20-year-old Grace Kinstler, a college student from Chicago, who wowed the judges with her performance.
Before she sang, Kinstler explained that she was trying out to honor the memory of her late father.
"I used to watch American Idol with my dad and my mom," she said. "I always imagined if I went, he would be there, but last February, I was at school and my brother called me at 7 in the morning and said, 'You should look for flights home. They just took dad to the hospital and he's not breathing.' It was very unexpected."
Her first song, "Midnight Train to Georgia," would give anyone chills. But Kinstler really blew the American Idol judges away after they asked her to sing a second song, and she chose Aretha Franklin's "Natural Woman."
Judge Katy Perry told her before she began, "The legend that is Carole King wrote it, the legend that is Aretha Franklin sang it, you need to sing it like the legend you want to be. Tall order. Don't phone it in; make me feel it. Sing 'Natural Woman' to me like I never heard it before."
Suffice it to say, Kinstler delivered. Just watch for yourself.
"There's not a whole lot of critiquing I need to do," Perry told Kinstler after that performance. "I got a wave of full body chills twice. That's music. That's true magic."
Luke Bryan added, "That's got to be right up there with the Kelly Clarkson audition, the Jennifer Hudson audition. I get brought to tears by stories and backgrounds of people and their struggles, but this is the first time in four years that someone just singing made me cry. Just understand that your dad is very, very proud of you right now. What a lot to be proud of."
Needless to say, fans of the show were proud of her too.
Katy Perry even gave Kinstler a shoutout on Twitter, which the young singer was super exited about.
After her audition, Kinstler talked about auditioning for American Idol without her dad there to see her.
"His not being here has taught me, live every moment as if it is your last," she said. "Take every opportunity, every chance, because you don't know what chance you can get because of it. I have a habit of getting nervous, where I have literally blown auditions because my breath stops working and I hyperventilate. But I keep on thinking how much he believed in me and I try to believe that much in myself. I think he would be heartbroken if I gave up because I got sad, so it's hard but it's also extra motivation for me to keep going."
Obviously, the American Idol judges were unanimous in their decision to send Kinstler to Hollywood. Evoking the names of greats like Kelly Clarkson and Jennifer Hudson is a big deal on this show, and it's clear that if there's anyone to watch this season, it's her.
This article was originally published on