Gay 'American Idol' Contestant Performs 'Landslide' For Parents Who Don't Accept Him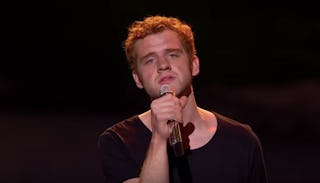 Image via YouTube/American Idol
Jeremiah Lloyd Harmon used his recent performance to reach out to his parents who don't accept him for being gay
If you're feeling like crying one million tears today, then you need to watch this American Idol contestant sing a heartbreaking version of the 1975 Fleetwood Mac hit "Landslide" as a tribute to his parents, who won't accept him for being gay.
Jeremiah Lloyd Harmon is the son of a Maryland pastor. He's 26 — and insanely talented. Fortunately, Idol judges Lionel Richie, Katy Perry, and Luke Bryan saw that talent and in the most recent episode, told him he was in the singing competition show's top 20 after his gorgeous rendition of the tune. Watch and within seconds, you'll see why:
I mean, wow. Without even knowing his back story, that performance would've put shivers up and down my arms. In the interview afterward, he explained that his song choice was aimed at his parents. "They were really on my mind when I sang that," he said. "I just want them to know that I love them, and I tried to communicate that."
"Well, I've been 'fraid of changin'
'Cause I've built my life around you"
Well. If you're not drowning in your own tears and snot after watching him sing that line and knowing its significance to him, then you're a stronger person than I am. My heart breaks for this young man who just wants his own parents to love him for who he is. All the support in the world from everyone else around you can't compare to your mom and dad telling you they see you — and accept you — for exactly who you are. If he's reading this, I will be his mom. Seriously.
https://www.instagram.com/p/BvvEeyYgqLQ/
"Being a part of this show has been good for me in one way, but it has also been a big challenge for me," Harmon admits. "I'm just being very public about my story, and it's causing a lot of change in my life right now."
https://www.instagram.com/p/BvojK4_AyUP/
When he sat down with the judges, he found a kindred spirit in Perry, who explained that her own parents (her father is also a pastor) took issue with her song "I Kissed A Girl." She told Harmon, "It was difficult for me because I felt very alone in what is supposed to be a very exciting time in my life. It has taken some time, but we've all come around to agree to disagree."
"I just want to say, from one pastor's kid to another, that I see you and I love you and I accept you and I'm so proud of you," Perry told him.
It looks like Harmon is getting plenty of similar support from fans. He recently shared on Instagram that a crew of "mama bears" sent him a sweet gift. "I got this hand made blanket in the mail today with a letter from @serendipitydodahformoms with over 1,600 signatures of 'mama bears' stating how much they believe in, affirm and celebrate their LGBTQ kids. SO sweet!"
https://www.instagram.com/p/BvdUaPAAs5u/
In the end, Harmon's speaking out about his truth in hopes that he will help others and give them courage. "I'm doing this for everyone who has been outcast by their loved ones," he said. "If I can be open about it and vulnerable, then maybe that can bring hope to somebody else."
This article was originally published on