'Idol' Contestant Who Lost Her Sight Brings Lionel Richie To Tears With Her Angelic Voice
by Valerie Williams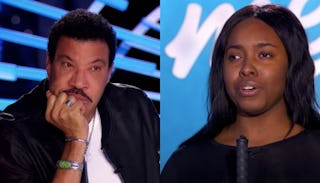 Image via YouTube
Her rendition of "Rise Up" will have you an instant wreck
I have a thing for singing competition shows. Some people cry over This Is Us. I cry over The Voice and American Idol. Watching people take steps toward realizing a long-held dream, seeing them wow and move the audience, it just gets me. That said, some auditions are truly special, and a recent episode of American Idol featured a contestant the judges — especially Lionel Richie — won't soon forget.
Virginia high school student Shayla Winn (Shayy) stunned the judges with her gorgeous and soaring rendition of Andra Day's moving hit "Rise Up." After hearing her backstory, I was a complete puddle of tears, and more on that in a moment, but first — just listen. And gather a bunch of tissues because you're gonna need them.
Are you done sobbing out every tear you own? Whenever you're ready. I know that was a lot.
Richie was visibly moved by the young lady's performance, and hello, why wouldn't he be? Not only is she unbelievably talented, she has also overcome a lot to be there. She was diagnosed with a brain tumor last year that ended up taking her sight. She explained to the judges that her current health is still "a question mark" as only half the tumor was able to be removed. In the meantime, she's just staying positive and working on her incredible voice.
Shayy explained before her audition that although losing her sight meant some kids at school mocked her (which, WTF) she's also made wonderful new friends and is finding her way in the world without her sight.
After completely killing it with her performance, a very visibly moved Richie stood to applaud her. "You have wrecked me," he said, still choked up. "Thank you for that . . . you're a lesson to us all, OK? Because it's the power of the spirit, and you're the reminder of just how blessed we are." Then, the legend himself walked up on the audition stage and embraced Shayy, thanking her again for her audition.
A fun tidbit — her audition is already climbing the charts.
And Richie took to Twitter to remind Shayy once more how much her audition meant to him.
After a ton of hugs and lots of applause, Shayy was sent through to Hollywood, because of course she was. I can't wait to see her continue to amaze the judges — and the rest of us — with her unreal talent and inspiring strength.
This article was originally published on