Best American Music Awards 2019 Red Carpet Looks So Far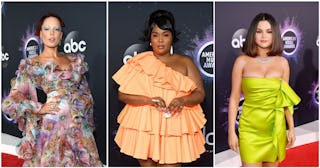 Getty Images
The 2109 American Music Awards are bringing out the looks!
The 2019 American Music Awards are here again, and as usual, the best part of any awards show is the red carpet right? Right? Come on — watching Twitter react to the fashion is almost the most entertaining part of the evening. And this year's styles are not disappointing. Here's a quick rundown of some of our faves:
Lizzo
Lizzo. Lizzo. Lizzo. The goddess of body positivity and bad-ass-bitch-ness sauntered onto the red carpet with the tiniest Valentino bag we ever did see. And a gorgeous off the shoulder coral ruffle dress. She is 100% THAT BITCH and we love her!! Tonight she's nominated for best new artist, soul/R&B song of the year, and soul/R&B female artist of the year.
Jenna Dewan
Jenna Dewan hit the red carpet in a hot pink floor length gown with the cutest gathered bow detail in the back. But it's the bump she's rockin' in the front that's cutest of all. This is a gorgeous pregnant queen!
Billie Eilish
Billie Eilish is 17. Seventeen years old! She's got her own style and she's doing her own thing and clearly doesn't give AF, so therefore she's giving us life. I'll take a veil like this for school drop off, please and thank you. She's got six AMA nominations tonight — including best new artist.
Halsey
Halsey looks like a beautiful fairy princess and her makeup is dreamy. If you're waiting for some criticism for any of these looks tonight, you're not going to get it from me. I'm currently writing this from my couch sporting some ripped leggings so who the fuck am I. She's got three nominations tonight, including best artist.
Daniel Levy
Everything Daniel Levy does is perfection, the end. I could watch Schitt's Creek on a constant 24/7 loop and I'm not even exaggerating. I don't know why he's at the AMAs and I don't care. I just wish I was his date.
Shawn Mendes
Shawn Mendes rockin' the deep-V Saturday Night Fever look. When did he become an adult? My kids played that Stiches video on an endless loop and I swear he was a preteen in that. He'll be performing Senorita with Camilla Cabello and is nominated for two AMAs.
Selena Gomez
Selena's looking like a ray of florescent 90's sunshine and we love it. She's performing the opening act tonight.
Taylor Swift
Taylor is bringing. it. She's nominated for five AMAs tonight including Best Artist, and she's being honored with Artist of the Decade tonight.
Christina Aguilera
Christina Aguilera can do whatever she wants.
This article was originally published on