Pink And Kelly Clarkson's AMA Duet Is Giving Everyone Chills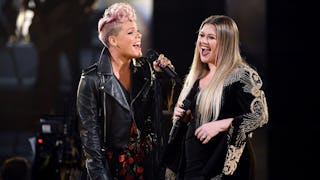 Image via Kevin Winter/Getty Images
Pink and Kelly Clarkson's performance was dedicated to first responders
Our two favorite bad-ass celebrity moms got together to open the American Music Awards last night, and they absolutely killed it.
That's right — we got to hear Pink and Kelly Clarkson singing together for the very first time (which, how is that possible?), and it was exactly what we needed after this epic shit-show of a year.
The pop star pair did their own version of R.E.M.'s emotional classic "Everybody Hurts," and in case that alone wasn't enough to make you sob, it was performed as a dedication to the first responders to 2017's horribly long list of tragedies and natural disasters. And boy, did these women do it justice.
Jamie Foxx introduced the singers before they set about giving the entire country chills saying, "We needed that power of music to help us heal [this year]. From hurricanes, wild fires, hate, hatred-fueled violence — 2017 is the year that tested our faith. At these moments of crises, heroes emerge."
Not only was their performance positively out of this world, the two even adorably hyped it up beforehand with tweets worshipping one another's talent.
They both tweeted a photo of themselves from AMA rehearsals with more words of praise, and we hope like crazy they take their mutual admiration society on the road for the most amazing tour to ever tour.
OK, is there room for one more in this badass female love fest? Because I want in.
Seeing Pink and Clarkson gushing over each other is the salve so many of us need right now. It's been a tough year, no doubt, but one constant has been these two wildly talented moms sharing their lives with their kids for us to smile at and now, we got the early Christmas gift of hearing them sing together. The fact that their song was dedicated to those who put themselves in harm's way to help others is just one more reason to be in awe of their performance.
Please do it again soon, ladies. We need it.
This article was originally published on