Most Americans Would Fail The U.S. Citizenship Test
by Jerriann Sullivan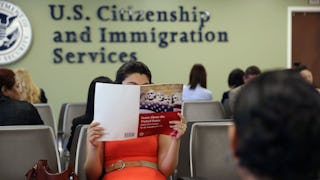 Image via John Moore/Getty Images
Survey shows most of us wouldn't pass the U.S. citizenship test
A new survey shows that most Americans would fail the United States citizenship test we force immigrants to take when they're becoming citizens. It turns out most of us don't know much about the history of the U.S. or how our government works. Since Donald Trump became president, we can't say we're shocked.
The survey tested the knowledge of 1,000 American adults and was conducted by the Woodrow Wilson National Fellowship Foundation and Lincoln Park Strategies, a research firm. Of those who took the test, only 36 percent passed the multiple choice exam. "With voters heading to the polls next month, an informed and engaged citizenry is essential," Woodrow Wilson Foundation President Arthur Levine shared. "Unfortunately this study found the average American to be woefully uninformed regarding America's history and incapable of passing the U.S. Citizenship Test."
Levine warned folks to not just be embarrassed by our how little we know about our country's history, but to take this as a reminder that history repeats itself. "Knowledge of the history of our country is fundamental to maintaining a democratic society, which is imperiled today," he explained. It'd be great if at least half of Americans could pass the test modeled after the one we're asking immigrants to take during their path to citizenship. If you apply for U.S. citizenship, you must pass a 100-question written test and an interview with an officer from the United States Citizenship and Immigration Services.
While most of us would fail the test, some groups of Americans did better than others. People 65 and older earned the highest scores but only 19 percent of those 45 and younger passed. "More than half of respondents (60 percent) didn't know which countries the United States fought in World War II," the Foundation shared. This one was a bit shocking because it feels like there's an endless amount of movies about World War II.
"Despite the recent media spotlight on the U.S. Supreme Court, 57 percent of those surveyed did not know how many Justices actually serve on the nation's highest court," the Foundation added. This one was hard to swallow, too, because the Supreme Court has been a major point of discussion across the country. History teacher Alana von Voigt told NBC News she found the survey results to be "very disheartening." In her history classes at Etiwanda High School in Rancho Cucamonga, California, she highlights how America is a melting pot. "As teachers, we can show our students how to be leaders, and inspire them to be the inspiration for others. As the saying goes, history repeats itself," she said.
Knowing the basics of our country's history and how our government operates can help us navigate the dumpster fire that is our current political nightmare. "Americans need to understand the past in order to make sense of a chaotic present and an inchoate future," Levine said. "[History] offers the promise of providing a common bond among Americans in an era in which our divisions are profound and our differences threaten to overshadow our commonalities."
This article was originally published on