'America's Got Talent' Airs Late Contestant's Stunning Audition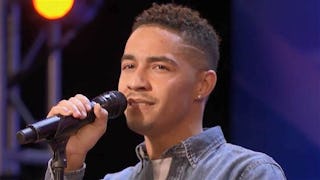 Image via YouTube
His talent was undeniable
If you tuned in to "America's Got Talent" last night, you're probably still drying your tears after seeing contestant Brandon Rogers' audition.
Sadly, the world will never know how far his talent might have taken him because he died a month before the episode aired as the result of injuries sustained in a car accident. But his gorgeous rendition of Stevie Wonder's 1995 hit "Ribbon in the Sky," which got him an enthusiastic "yes" vote from all four judges, will live forever.
We have actual chills. He was so amazingly talented.
According to TODAY, his loved ones gave the all-clear to televise his audition after his passing. "At the request of his family we would like to honor his memory by sharing his audition with you," the show said in a statement.
Virginia native Rogers wasn't just an incredible singer — he was also a doctor. He was sure to get his career as a family physician on track before revisiting his dream of singing.
Yes, you read that right. Despite his undeniable vocal gifts, the 29-year-old made becoming a doctor his first priority. And it was a lifelong dream realized. "My inspiration for becoming a doctor was kind of born out of a pretty tough experience when I was about 6 years old. I came home from school one day and I found my mom laying in a pool of blood," he said before his performance on the show. "We rushed her to the hospital; the doctors were like heroes. They saved her life and it made me want to be the doctor that I am today."
That childhood experience helped him understand the meaning of his chosen career. "I feel like I'm in a field where I'm actually making a difference, and there can be really tough days sometimes too," he explained.
Despite his busy job, he always found his way back to music. "My way to cope with the stress has always been music … If I could find a way to combine being a doctor and medicine with music and singing that would be a dream come true," he shared.
And it wasn't just the producers of "America's Got Talent" noticing the up-and-coming vocalist. A video he posted on Instagram was seen by members of '90's band Boyz II Men, resulting in three nights of Las Vegas performances with the group earlier this year.
The band summed up perfectly how so many feel after Rogers' passing. "It hurts to know that the world will never have a chance to witness what his impact on the world could have been as a Doctor and even on the music world. A great spirit and a great voice. Even for the little time we knew you you will be sorely missed."