Rare Condition Leaves Mom Of Two Without Use Of Her Legs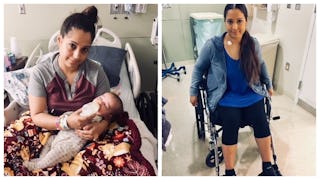 Image via GoFundMe/Dr. Amira Bass
Facing a life-altering diagnosis, Amira Bass is determined to be the best mom she can be
Last month, mother of two and physician Amira Bass was diagnosed with a rare condition that has left her without motor or sensory function from her waist down.
Her young sons are just three years old and four months old — meaning this life-altering health situation is unfolding while Bass is still recently postpartum.
She was officially diagnosed with a rare form of transverse myelitis, which means she had a large spinal cord lesion that resulted in her paralysis. Doctors are still stumped as to what exactly caused it, but they believe it stemmed from an aggressive autoimmune disease.
Currently, Bass is in an intensive, acute in-patient rehab facility while still trying to remain a fully-active mom in the lives of her little boys.
"Amira is handling everything with the grace and determination of an Olympic athlete," her friend, Dr. Shoreh Imani, tells Scary Mommy. "I cannot convey in words how challenging it is to work with legs that you cannot feel or move."
Imani says, "If any woman thinks back to that feeling when they had their epidural during labor, they can understand what it is like to be Dr. Bass. You know your legs are there, you can see them, but if you touch them, you do not feel them. Your brain says 'move' but nothing happens."
Bass's family has been immensely supportive, though they too are obviously heavily impacted by the severity of her diagnosis. Her husband and extended family make sure to bring her baby, Rakim, in for cuddle time and feedings before she begins her rigorous daily therapies. Her toddler, Jaseem, visits in the evenings after daycare. "He understands mommy is sick," Imani tells us. "But he doesn't fully comprehend yet that she won't be able to chase after him like before."
In order to help Bass adapt to her new life, her physical therapists have even created a mannequin that weighs 17 pounds to help her adapt to altered basic parenting skills, like bathing her baby and changing his diaper from a wheelchair.
While this entire story is heartwrenching to be sure, perhaps the most telling portion of the diagnosis is the fact that Bass admits her body was giving her warning signs for the past two years. "She says that she put her own self-care on the back burner because she was always involved in caring for her family, friends, career," Imani says. "I think many moms can relate to that. We tend to put ourselves last."
Since she's unable to return to her medical career — and had just completed an unpaid maternity leave to boot — Bass's family and friends have created a GoFundMe to help the family adjust to incurring expenses — and prepare for the future. "Her family has taken a big hit financially," Imani explains. Her family's home will need to undergo extensive remodeling to make it wheelchair-accessible, in addition to acquiring full-time childcare since she can no longer care for her babies independently.
Imani tells us that Bass has always been there for everyone in her life — which is why they so badly want to help her now. "She is everyone's go to; not only in her own immediate family, but amongst all her friends. She has always been the one we all turn to when we have problems: relationships, career, academics, you name it. She always just gets it and provides amazing insight. She is truly the rock that we all have.
Doctors are unsure if she'll ever walk again, but Imani says her friend is determined to make the most of her life despite her diagnosis. "She is trying hard to embrace her new wheelchair-bound life, though she's having to re-learn everything she used to previously do without thought or effort."
If you'd like to help Amira and the Bass family, head on over to their GoFundMe. Our thoughts and well wishes go out to them.