'Chic Depression Look': Parody Make-Up Tutorial Nails Stigmas Surrounding The Illness
by Ashley Austrew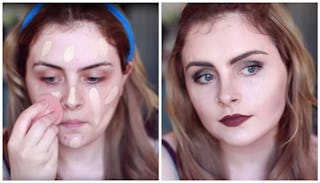 This make-up tutorial perfectly describes what it's like to live with a mental illness
Millions of people suffer from depression and other mental health issues, but these illnesses are still stigmatized or totally ignored by a huge swath of the population. That's why this YouTuber created a hilariously on-point tutorial video that shows what it's like to try to "cover up" a mental illness.
In a video called "Depression Make-Up Tutorial," YouTube star Amy Geliebter puts on a full face of make-up while simultaneously making fun of the "shitty stigmas we face as people who suffer from depression." She first instructs viewers to prime their faces with a "nice, thick coat of chemical imbalances" and make sure their foundation is "nice and rocky and emotionally unstable." Check it out right here:
From there, Geliebter says to cover your blemishes — first using the shade "denial and emotional oppression," then again with "another layer of concealer in the shade 'complete mental breakdown.'" She completes the rest of the look, giving each product a name or description that perfectly matches different aspects of life with a mental illness — for example, lipstick in the shade "just smile more" or a mascara brand called "I feel empty and dead inside."
"For our eyes we're going to be using the shade 'just be happy' for our base," she says. "Next we'll be applying the shade 'you don't need medication' to our crease. Finally, highlight your brow bone using the shade 'I was depressed once too, and I got over it.'"
Since Geliebter's video went up, it's been viewed over 84,000 times, and amazingly, all of the comments are positive. People love the video not only for its biting and accurate descriptions of what depression feels like, but also for the way it tackles the ridiculous things people who suffer from mental illnesses are so often told.
Depression can be very isolating, in part because it's so misunderstood. People think you can just exercise or smile your way out of it, just choose not to have an illness anymore. It's infuriating when something that's completely out of your control is treated like a choice, or even worse, like it doesn't really exist.
According to the National Alliance on Mental Illness, one in five adults suffers from mental health issues in a given year. Yes, you read that correctly: one in five. Despite the stigma, depression and other illnesses are not rare, and they're not made up conditions. Geliebter's video resonates with so many of us because it's exactly what we're going through or have gone through, and it's awesome that she used wit and humor to draw attention to a struggle that so many of us face.