This Hero Mom Is A Fighter Pilot Running For Congress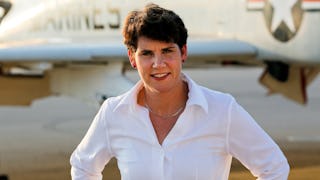 Image via Amy McGrath for Congress
She's flown 89 combat missions — and now, she's running for Congress
Retired Lt. Gen. Amy McGrath is a 20-year veteran of the United States Marines. Over the course of her career, she flew 89 combat missions bombing Al Qaeda and the Taliban. She holds the distinction of being the first woman marine to fly in an F-18 in combat. She's also mom to five-year-old Theodore, three-year-old George, and Eleanor, age one.
And now, she's running for Congress.
McGrath's candidacy was announced today with the release of this incredible campaign ad.
"When I was 12 years old, I knew exactly what I wanted to do when I grew up," she says. "I wanted to fly fighter jets. And land on aircraft carriers, because that's the toughest flying you can do."
McGrath wrote to her congressman at age 13 to explain her dream, but was told she couldn't fly in combat. "He said Congress thought 'women ought to be protected and not allowed to serve in combat.'"
She says she never got a letter back from her state senator, Mitch McConnell.
McGrath then wrote every member of the House and Senate Armed Services committees asking them to change the law so women could fly fighter jets. She told them if they met her, they'd understand she could do it. "But most of them told me I couldn't," she recounts.
Then, she got into the Naval Academy. "And wouldn't you know? That's when they changed the law."
And that's how McGrath got her first chance to be a hero for the country she loves. Now, the Democrat is running for Congress in 2018 against Andy Barr in her home state of Kentucky. In the ad, she explains that he's "Mitch McConnell's handpicked Congressman" who is trying to take away healthcare from over a quarter million citizens of her state.
McGrath isn't having it.
She explains that her own mother is a polio survivor and also, a graduate of UK Medical School, one of the first women to do so. "A lot of people told her she couldn't achieve her dreams, either. But she persevered and ended up treating many of the same kind of people whose health care you and Mr. McConnell would take away."
So this is McGrath's "new mission:" to take on the career politicians who seek to hurt the people of her state with their reckless policies.
It was after retiring from the Marines this past June that McGrath decided to run for public office. A statement released to Scary Mommy explains her reasons for throwing her name in the race. "I believe we need to elect a new generation of leaders who put our country before politics. I am enormously grateful to live in America, to have been given the opportunity to defend it, and I owe it to my home state of Kentucky to dare to make a difference when our country needs better leaders."
We can't think of a better-equipped candidate to do it.