No One Has Ever Been More Real Than Amy Poehler In This Interview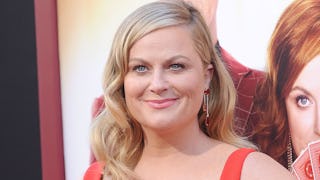 Image via Jason LaVeris/FilmMagic
Amy Poehler keeps it real in recent interview by giving honest answers to fluffy questions
The fact that Amy Poehler is a national treasure who must be protected at all costs is well-established. She's a woman who supports other women. She's brilliant. She's devastatingly hilarious. She's also completely over the typically fluff questions directed toward famous women and instead of giving back fluff answers, Poehler decided to keep it real during a recent Q&A — which only makes us love her more.
A tweet about Poehler's replies to questions asked for her profile in The Hollywood Reporter's recent feature, "The 40(ish) Most Powerful People in Comedy," went a little viral — because this is the dark humor we need in our lives right now. Instead of playing along with the cutesy vibe, Poehler laid it out there and used her interview to shine a light on the awful things we've been reading about lately.
The outlet likely hoped these softball questions would result in adorably clippy responses, but Poehler instead focused on the current state of the world — and how it's kind of hard lately to keep things lighthearted.
FYI, I completely read the answers in her SNL Hillary Clinton voice. Try it. It works.
The outlet asked Poehler about her most memorable heckler. "Who cares? The whole world is on fire," she quipped.
She used a question about her "dream product endorsement" to bring up the recent horrifying news of a whale dying after ingesting too much plastic. When asked about her fave guilty pleasure the comedy icon reminded readers that "…over 4,600 people have died in Puerto Rico."
A few other gems? If she didn't work in comedy she said, "I would never leave my house." When asked about college comedy audiences her thoughts turned to the recent (terrifying) trend of deadly school shootings. "Kids that are afraid they will be shot in their own schools. What has happened to us?"
What has happened indeed, Amy.
As far as what sitcom she'd like to see brought back? "Mr. Rogers. I miss him. We need him." Ugh, we sure do. Deep down, I've long felt we wouldn't be in this mess if he were still with us.
Finally, they asked Poehler the funniest thing about the Trump administration. Her deadpan reply? "Are you kidding me?"
While THR could've totally been in on this and asked the questions knowing what kinds of replies she would give, it's also possible that Poehler gave the answers unprompted and they just ran with it. Either way, huge props to all involved. Yes, it was funny to read — but it also forces us to see that we're not really living in times where it's easy to put the bad stuff out of our heads. It's in our faces all the time and those privileged enough to not be personally effected are the ones who need to speak out.
Which is exactly what she did, in true Amy Poehler fashion.
This article was originally published on