Amy Poehler Is Directing Her First Movie With All Female Leads -- Yes Please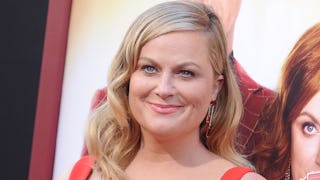 Image via Jason LaVeris/FilmMagic
Wine Country will be directed by Amy Poehler and star all our faves
As if we couldn't love Amy Poehler any more, she's making her directorial debut with a Netflix feature film — and the cast is so spectacular, we're counting down the minutes until this movie is ready to stream.
Pour a big glass of your favorite red or white and buckle up, because Wine Country is coming soon to Netflix. It's the story of a group of gal pals who take a trip to Napa Valley for a weekend getaway (aka every woman and mother's dream).
If you're a fan of Saturday Night Live — and just amazingly talented and hilarious women in general — you're in luck. Because Wine Country stars fellow SNL alums Maya Rudolph, Ana Gasteyer, Paula Pell, Rachel Dratch, and (drumroll please) TINA FEY.
Because you can't have Amy Poehler without Tina Fey. (Of course you can, because they are delightful sunflowers with fathomless amounts of talent, but we just really love them as a pair.)
While we may have to wait a bit before indulging in this obvious instant hit, the cast of Wine Country graciously gave us all something to hold us over: a video of all the actors gathered together singing some Kenny Loggins. As you do.
Naturally, everyone collectively lost their minds upon this announcement because it's the kind of news we all deserve in this, barely the third month of 2018.
SAME, GIRL. SAME.
Is there some sort of award for effectively announcing and marketing your film to its intended audience? Because if so, Wine Country has already won.
LOL. Sorry Marvel fans, please just let us have this.
There are simply not enough Leslie Knope GIFs to express our level of absolute, unfiltered pleasure about this movie.
It doesn't matter that none of us really know what the plot synopsis of this movie is — all we need to know is that it involves these amazing women friends, wine, and perhaps some more Kenny Loggins. If you think about it, almost every '80s blockbuster featured K-Loggs in the soundtrack so if that's where we're headed with this — sign me the fuck up.
Ugh, just look at these achingly beautiful souls. A girl's trip movie featuring some of the best comedians in the biz, alcohol, and a beautiful landscape? Doesn't get much better than that.
I know I'm ready to walk up to the couch, turn on the Amazon Fire, and enjoy the hell out of this.