10 Questions for Paralympian Amy Purdy
by Bill Murphy Jr.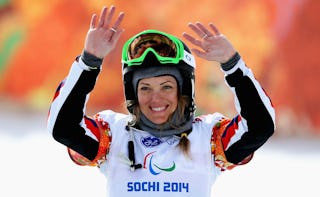 Since then, Purdy has gained a following as an author (her book is On My Own Two Feet), the star of a super-well-received Toyota Super Bowl commercial, and a motivational speaker. We caught up with her recently and asked her to answer our Mid Questionnaire.
1. What's something you want to learn how to do?
Two things. Sing and surf.
2. What's a trip you've been meaning to take?
I want to go across Europe. My boyfriend and I have been wanting to rent motorcycles and tour across Spain, and spend a month over there.
© Slaven Vlasic/Getty
3. To whom do you owe a thank you note? (Here's your chance.)
I said thank you to my dad for giving for a kidney, thank you for Dancing With the Stars. I'd probably make it general and say my fans and supporters. People have been so supportive, and I get a lot of emails and I don't get to respond to each and every one. So a big thank you for everyone who has reached out to me and shared their stories with me.
4. You're 12 years old. What are you doing on a Friday night?
Handstands I'm sure. I used to love doing handstands. And probably watching a horror movie.
5. For whom did you make your first mix tape? What songs were on it?
You know what? I don't know if I made a mix tape for somebody else. I made it for me. It had some Duran Duran on there. I had Guns N' Roses. I had U2.
6. What's the one childhood story about you that you're sick of hearing at family gatherings?
Oh gosh, let me think. I don't know. I'm not sure. Maybe [the question] should be, what's the one assumption that people have? It's that I've always been an athlete. I wasn't an athlete as a kid. I was an artist. I painted. I did photography. I also snowboarded and was good at it. I was active. I worked out, but I didn't consider myself an athlete until I dedicated myself to the sport. …
I always think the perception is, a lot of people were raised as athletes. It does kind of bother me, because people believe the only way to be an athlete is to be born into it, and it's not true. Anytime you're willing to dedicate yourself to making yourself a success at that sport, you can become one.
7. What advice would you give your 25-year-old self?
I would just say don't limit yourself. Live your dreams. I have been doing that, so it's kind of funny—at 25 I was. But just be bold, anything's possible; live your dreams.
8. What's the one thing you make better than anybody?
I should say for sure coconut chocolate chip macaroons, and strawberry cupcakes. With fresh strawberries.
9. What's your motto? Or if you don't have one, what's your theme song?
I would say my motto is "live inspired." People often say they're inspired by me, but I think inspiration is contagious and I do my best to live an inspired life. Art, music, nature—when you see somebody living their passions, their dreams, it makes you feel like you can do so as well.
10. What's the one movie or TV show that makes you feel better?
I'm going to say Oprah's Super Soul Sunday. I look to the people she's had on her show for inspiration.
This article was originally published on