Fellow Moms Are Celebrating Amy Schumer's Baby-Free Bar Night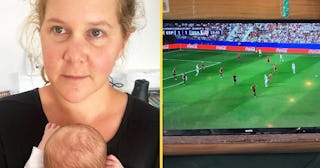 Amy Schumer/Instagram
Schumer caught some much-deserved baby-free time at a bar
New mom Amy Schumer has been sharing the good, bad, and hilariously ugly sides of motherhood since she gave birth to baby Gene in May. But her most recent photo is just as amazing, not because baby Gene isn't the star, but because she's taking time out for herself to enjoy a sweet, sweet moment of silence. And by silence I mean she's sitting at a bar watching the FIFA Women's World Cup with nary an infant in sight.
"Where is everyone watching the US women's soccer team play Spain?! I'm in a bar without a baby," she joked next to a close-up of a TV screen. Oh, to get a moment of peace to do whatever the hell you feel like after you've had a baby. You could be doing something epic or doing nothing at all, as long as you're not taking care of another human being for five seconds, it's a blessing.
Fans were quick to jump in and celebrate the moment with her:
Schumer was diagnosed with hyperemesis gravidarum early in her pregnancy and was sick pretty much from day one, being hospitalized several times for dehydration and sharing awful puking episodes throughout. Since Gene's birth, she's still been keeping it real with everything from C-section photos to mesh underwear selfies to my personal favorite "MILF" toilet picture right after she gave birth.
Of course, when celebrities share their lives, they always get shamed for something, and Schumer is no exception. She got roasted after posting a video of herself doing stand-up two weeks after Gene was born, but clapped back in the most perfect way, sharing a pumping photo with the caption: "Sending out love to the moms shaming me for doing standup last night!" Bless.
It's refreshing that people are supporting her sitting in a bar sans baby to watch some kickass women's soccer being played. Perhaps folks are finally on board with moms getting a night out to enjoy themselves (though Schumer probably doesn't care at all whatsoever anyone's opinion of her anyway).
Schumer's also let fans into her softer side, posting adorable photos of snuggle sessions with little Gene, which we are equally thankful she shares.
Here's hoping she continues to share the sweet and hilarious moments of motherhood with the world, and please keep the soccer-watching-in-bars pics coming. Being a mom is a 24/7 job, we need a damn break every once in awhile.