Amy Schumer's New Baby Is Adorable -- And So Is His Name
by Christina Marfice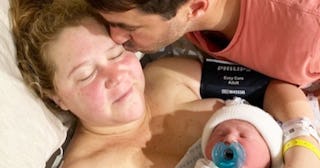 Amy Schumer via Instagram
Amy Schumer is staying one step ahead of the Royal Family when it comes to baby reveals
Being a celebrity having a baby on basically the same day as the Duke and Duchess of Sussex has got to be a little stressful. But Amy Schumer appears to be taking that challenge perfectly in stride, as she stays one step ahead of the Royal Family when it comes to introducing her newborn baby boy to the world.
Now, while the world is still awaiting a name for Baby Sussex, Schumer and her husband, Chris Fischer, have already made that announcement. They did it on Instagram, where they've been posting all their big baby news updates, alongside yet another adorable photo of their newborn son, getting some prime snuggles from Dad.
https://www.instagram.com/p/BxL3WbgFbhI/?utm_source=ig_embed
Schumer kept things simple and straightforward in the caption, just writing, "Gene Attell Fischer and his dad Chris."
Um, look at that sweet boy. He is perfect in every way.
We also can't get over the name they chose. "Gene Attell" appears to be paying tribute to Dave Attell, a fellow comedian and close friend of Schumer's who has had cameos in some of her films, like Trainwreck. It's a pretty big honor to have Amy Schumer's firstborn child named after you, so we have to wonder if this is a clue that he's the baby's godfather? Regardless, he's bound to be an important figure in little Gene's life, being his namesake and all.
Schumer may have given birth a few hours later than the Duchess of Sussex, but she's made sure to stay one step ahead of the Royal Family with all of her reveals. She shared photos of her new son just hours after he was born, while Prince Harry and Meghan Markle didn't give the world a glimpse until today, nearly three days after their son arrived. And, of course, the Royals have yet to announce whether they've decided on a name for their little one.
Not that there's anything wrong with either set of parents' approach. Prince Harry and Meghan are entitled to all the privacy they want, but #SorryNotSorry for wanting to see all the cute famous babies, OK? She's just giving the people what they want.
Schumer has been very much her hilarious self throughout her pregnancy, even as she suffered through such bad morning sickness she had to be hospitalized for it. On the way to the hospital to give birth, she stopped by the Met Gala and posed on the stairs in her "look," which was sweatpants and a cardigan. We stan a comfy 9-months-pregnant woman.
https://www.instagram.com/p/BxIll1WlIO7/?utm_source=ig_embed
And in the weeks leading up to little Gene's arrival, she posted a very over-it bump photo that had every mom everywhere nodding in agreement, asking if people felt like she had been pregnant "forever," because she sure did.
We'd say we hope Amy Schumer and Chris Fischer are enjoying every moment of their new adventure as parents, but it's clear they are. We'll just be over here not-so-patiently waiting for more photos of little Gene.
This article was originally published on