Amy Schumer Posts Selfie With Her New Baby
by Thea Glassman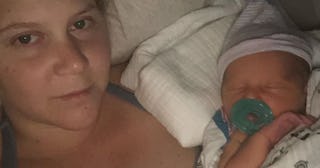 Amy Schumer via Instagram
There's some very cute baby content happening on Amy Schumer's Instagram
Amy Schumer is officially a new mom which means that late night baby selfies are going down on her Instagram account. The comedian took to social media to share a photo of her and her newborn lying in bed together and – fair warning – it contains very, very high amounts of cuteness.
Schumer gave birth to her son Gene this past Sunday and, since then, there's been a whole bunch of teeny tiny, bundled joy happening on her Insta. Like, this picture she posted late last night, featuring a shot of sleeping Gene. "New kid, who dis?" Schumer wrote.
If that's not enough to make you swoon, please direct your attention to this picture of Schumer and Gene in the hospital bed ft. her husband Chris giving her a sweet, loving kiss.
And this shot of Chris holding their newborn. Probably enough adorableness to last you for a long, long while.
https://www.instagram.com/p/BxL3WbgFbhI/
This is all really wonderful to see, especially given the fact that Schumer is finally done with a very rough pregnancy. The comedian had hyperemesis, which means she dealt with extreme nausea and a whole lot of vomiting. This past November, she took to Instagram to apologize to fans for having to miss shows because she was feeling so sick.
"Very lucky to be pregnant but this is some bullshit! Sending so much love to the doctors and nurses taking great care of me and Tati!" she wrote. "They are cool as hell! And Texas I am really really sorry and I'll be out there as soon as I'm better."
It was getting really, really bad.
Yup, the time had finally come.
Here's hoping that the late nights aren't too bad and looking forward to all of the deeply relatable mom content coming our way.
This article was originally published on