Moms Are Supporting Amy Schumer As She Heads Back To Work After Having Her Son
by Valerie Williams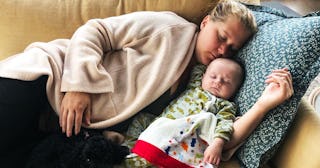 Amy Schumer/Instagram
Amy Schumer is every tired mom going back to work after having a baby — and no one understands it like other moms
Even if you're privileged enough to not have to worry financially while taking time off from work after having a baby, it's undoubtedly difficult for all moms to part with their little one to head back to the office, or the stage, as is the case with new mom Amy Schumer. She had her son, Gene Attell, back in May — and now? It's time for her to head back to work.
The comedian and actress took to Instagram to share a sleepy snap of herself and sweet baby Gene, dozing together on the couch. We can practically smell his delicious infant head from here.
https://www.instagram.com/p/B1tYHe1JBTU/?igshid=1sc6d6x4u9xmq
The photo is simply adorable and peaceful — a tired momma enjoying a little cuddle time with her baby boy. But it's Schumer's chosen emojis that tell the real story. "Back to work this week. Feeling like 😳💔😢😀," she writes.
For those who don't speak emoji, allow us to translate — that's a stunned face, a broken heart, a teary face, and a big smile. Because going back to work after having a baby will produce literally all of those emotions and then some — and they'll change by the hour for basically the rest of your parenting life.
Is it shocking and upsetting heading back to your job after spending a period of weeks or months (hopefully paid, but probably not) with your new kiddo? Of course. Will your heart shatter into one million pieces and then become whole again every single time you drop your baby at daycare or with grandma and then return at the end of the day? 100 percent. Are you going to cry in your office bathroom? Without a doubt. But is it also kind of wonderful to have hours of the day without any spit-up stains on your shirt and the ability to drink an entire coffee while it's still hot?
Yes. So much yes.
Returning to work after giving birth is a gigantic deal for a mom — hormonally, mentally, emotionally, and physically. Trying to adjust to being a mom and an employee isn't easy. You miss your baby, you feel guilty, you feel… weirdly elated? You feel guilty for feeling weirdly elated. All of this is normal but also, extremely exhausting. No one gets this like fellow moms, and they were totally there supporting Schumer in the comments. Like, hundreds and hundreds of kind, momma-to-momma comments.
Schumer, of course, probably won't have some of the same back-to-work concerns as us regular folks who have to panic over paying for daycare and juggling life without the kind of help she can very likely afford. But no amount of on-site nannying and flex scheduling can change the fact that leaving Gene for any period of time will be a seismic shift after spending all these weeks learning to be his momma. Hence, her string of all-over-the-place emojis when thinking about it and the loads of love from fellow moms who understand her pain.
Luckily, Schumer has already had a little bit of practice. She shared shortly after giving birth to Gene that she was back onstage doing a little standup, and naturally, people judged and shamed her for it.
That night was probably a valuable experience for the new mom — learning to be away from her little guy and learning that people love nothing more than judging the choices a woman makes after she becomes a mother.
But if anyone can handle it, it's Schumer. All of us mommas hope her return to work is as smooth as it can be.