Amy Schumer Cancels Tour Due To Severe Pregnancy Illness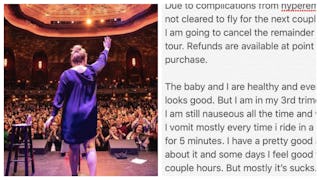 Image via Instagram/Amy Schumer
She shares a heartfelt message to fans about her cancellation due to severe hyperemesis
Amy Schumer has announced on Instagram that she's going to have to cancel the rest of her comedy tour, per doctor's orders. She's currently in her third trimester of pregnancy and her third trimester of hyperemesis gravidarum — so basically the fact that she's been able to keep up on touring this long is a damn miracle in itself.
"Due to complications from hyperemesis I am not cleared to fly for the next couple of weeks I am going to cancel the remainder of my tour," she shares on Instagram. "Refunds are available at point of purchase."
https://www.instagram.com/p/BuM_V1dFDeY/?utm_source=ig_share_sheet&igshid=1bkwhm8l1yalb
She says while she and the baby are healthy and everything looks good that way, she's still incredibly ill from the hyperemesis. "I am in my 3rd trimester and I am still nauseous all the time and vomiting," she writes. "I vomit mostly every time I ride in a car even for 5 minutes."
Hyperemesis gravidarum is a condition affecting less than three percent of pregnant women. It's marked by severe nausea, vomiting, weight loss, and dehydration during pregnancy. You'll probably remember Kate Middleton suffered from hyperemesis gravidarum throughout each of her three pregnancies, which is why the Palace announced each pregnancy earlier than the standard 12 weeks.
Schumer first shared her diagnosis last November, after she was hospitalized due to complications from the illness while on tour in Texas.
"I have a pretty good attitude about it and some days I feel good for a couple hours," she says in her most recent post. "But mostly it's sucks [sic]. I wanted to push through and do my shows. Because I hate letting people down and I love stand up and money! But more than that I have to think about my health and the baby."
Schumer has been pretty candid about how difficult her pregnancy has been by sharing videos of her barfing while on tour. And honestly? Good for her. It's always good to remind society how tough it is bringing a baby into the world, and so many mothers can relate to her struggle.
"I know you guys get it and people are like. Bitch are you ok? Take it easy but it's still embarrassing to have to cancel." Sure, it is. But I just got past my own puke-tastic first trimester and while I still have my gaggy moments, I genuinely could not imagine having to endure this daily for nine months. Bless all the angel moms out there who have suffered through hyperemesis, seriously.
We're wishing Amy Schumer a peaceful, non-barfy last few weeks of pregnancy.