Amy Schumer Is The 'Gold Bond Girl' In Hilarious Bathing Suit Post
by Leah Groth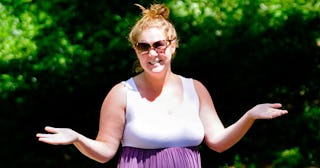 Gotham/Getty
The new mom pokes fun at postpartum pain, and we totally love her for it
Amy Schumer's jaunt into motherhood has our cup seriously running over in postpartum humor. Less than two months into it, the actress and comedienne's commentary about the beautiful mess of parenthood has made her our imaginary mom BFF. Luckily, it doesn't look like she is about to quit dispensing with her hilarious real talk about parenting anytime soon.
Instead of trying to reenact sexy scenes from James Bond movies, by posing in front of an expensive yacht in a skimpy swimsuit, the new mom opted to keep it oh-so-Schumer. Wearing a black one-piece swimsuit, Gene's mom channeled her own version of the iconic Bond Girl by posing in front of a boat — of the old fishing variety. "Bond, Gold Bond," she simply captioned the snap in all of its brilliance.
In case you aren't a Gold Bond consumer, the company offers medicated skin care commonly used to treat dry skin, scars and stretch marks — something many of us are all too familiar with after housing a baby in our belly for several months and then popping them out. Schumer, who has been rocking her c-section scars with pride, may or may not be using Gold Bond products. We have no idea. But if there ever is a Gold Bond Girl (which is actually a totally brilliant idea, if whoever works in marketing at Gold Bond is listening) she is the obvious casting choice and deserves some major residuals from this promotion.
In addition to giving the age-old product a shot out, she has also taken it upon herself to school the world that hospital mesh underpants are a totally acceptable form of lingerie — or even outerwear. She even posted photos modeling them while pushing her baby stroller down a country road. "5 weeks," she writes. "Hospital underwear for life!"
She also had no qualms about sharing a photo of herself channeling a dairy cow while pumping milk and modeling one of those titless breast milk pumping bras, that many of us are all too familiar with. While some moms might would be horrified to allow anyone to watch them during one of these pumping sessions — let alone share a photo of it on social media — Schumer had no qualms about documenting herself in action and sharing the experience with her nine million followers. Again, because she is totally rad.
Amy Schumer, we love you forever. You are officially our Gold Bond Girl and dream mom friend for life.