Amy Schumer Got Married, And The Pictures Are So Dreamy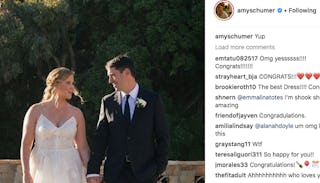 Image via Instagram/Amy Schumer
Amy Schumer married boyfriend Chris Fischer
Our (imaginary) best friend Amy Schumer just broke the news that she tied the knot — and the wedding pictures are so, so dreamy. The comedian took to Instagram to share a bunch of snapshots, including candid moments from the seaside ceremony and group pictures with her bridesmaids. Prepare to feel very happy and very, very jealous (I mean, don't we all want to frolic on the beach with Amy Schumer?)
Schumer wed boyfriend Chris Fischer in Malibu, just three days after making their relationship Instagram official. No word yet on when/how they met, but we do know that he's a chef who has been lauded by Barack and Michelle Obama — so that's kinda the only seal of approval needed. Also just look at how happy they both look. Sigghhhhhhh.
We can feel the bliss from here.
She posed adorably with what appear to be either casually uncoordinated bridesmaids or close friends.
Oh hiiii Jennifer Lawrence.
The wedding guest list was pretty much an A-list dream team, and included Lawrence, Jennifer Aniston, Larry David, David Spade, Judd Apatow and Jake Gyllenhaal. Side note: can we maybe make a movie starring all of these people? Larry David + Jennifer Aniston = everything you could possibly ask for in life.
A source told US Weekly that it was a "very chill" wedding which had been "thrown together last minute."
"Most of the guests found out the wedding was happening on Tuesday from a text message sent out by Amy on Sunday," the insider said. "It was like, 'Hey, this is happening. If you can make it, great. If not, no worries.' People were in and out all night. It was a gorgeous day. Everyone was having a good time."
Oh yeah, and Schumer followed up her wedding post with a public declaration that, no, she is NOT pregnant. Also, in lieu of gifts she asked that donations be made to Everytown, a nonprofit that advocates for gun safety. Love that idea very much.
Many, many Mazel Tovs to the bride and groom. Here's to a lifetime of happiness and probably all the best jokes.
This article was originally published on