Amy Schumer Puking In A Public Bathroom Is Relatable To Moms Everywhere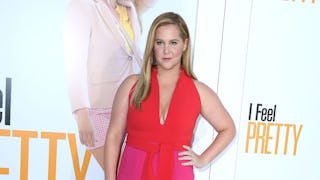 IMAGE VIA AXELLE/BAUER-GRIFFIN/GETTY
Schumer's pregnancy has been anything but glamorous, and moms are thanking her for her honesty
Amy Schumer's pregnancy had been the stuff of nightmares. Unfortunately, it's not uncommon to have morning sickness — or worse — throughout pregnancy. And in typical Amy Schumer fashion, she decided to share the lows with her fans and a video herself puking in a public bathroom.
Sure, it might be gross — but it prompted a whole lot of comments from fellow moms showing major solidarity.
The comedian and soon-to-be new mom shared what's become a frequent occurrence during her pregnancy — throwing up. On Saturday, Schumer posted an Instagram video of her getting sick over a toilet. "Hi. I thought it might be fun to see me throwing up in a public bathroom," she said.
"Deep in my second trimester and all I can say is nope!" she wrote. "Yesterday I did a show 90 minutes later."
Back in November, Schumer was hospitalized for hyperemesis gravidarum, a condition that causes repeated sickness and nausea and can lead to dehydration and weight loss. She's expecting her first child with husband Chris Fischer, and is also currently on tour. In the past few months, she's had to cancel shows because of her condition, even ending up in the hospital.
"I love doing stand-up more than anything and I hate canceling shows. I have to postpone some until I feel human again. But I will make up these dates and we will have a great time," she said in another post. "I'm so proud of my stand up right now and can't wait to share it. Thanks to the amazing crowd tonight for being so warm and such great laughers and for being cool with my sweatpants and slippers on stage."
The consistent sickness (read: violent barfing) hasn't stopped her from eventually returning to the tour. And her welcomed oversharing gave women who've suffered similar symptoms of pregnancy the comfort necessary to share their own stories:
Kate Middleton also suffered from hyperemesis gravidarum throughout all of her pregnancies. Luckily, the condition affects less than three percent of women. But for those that do, the enjoyment and anticipation of a child can be secondary to feeling like you want to crawl in a hole and fast forward.
Of course, among all the pain and sickness, she understands how many women would love to be in her shoes. I'm "very lucky to be pregnant" she said in a post. "But being so ill is absolute bullsh*t."
Hang in there, mama.