Amy Schumer Opens Up About Being A Working Mom: 'It Felt Good To Be Back'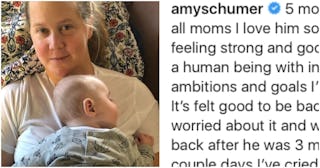 Instagram/Amy Schumer
Amy Schumer shared her thoughts on returning to work after five months
Amy Schumer has shared a lot about her first experience as a mom — the highs, the lows, and everything in between. Her honesty is refreshing and it's nice to see a celebrity posting non-filtered photos and hilarious commentary about motherhood — things we can all relate to as we all try to muddle our way through parenthood. The comedian's latest post is more serious, asking working moms what their experiences have been, and sharing her own after going back to work herself.
"5 months today and like all moms I love him so much it hurts," she wrote on Instagram next to a picture of her snuggling baby Gene. "Im feeling strong and good and like I'm still a human being with interests and ambitions and goals I'm excited to reach. It's felt good to be back at work."
https://www.instagram.com/p/B3Qr342JTaO/
Schumer and husband, Chris Fischer, welcomed baby Gene in June of this year and got the mom-shaming treatment shortly after when she went back to do a gig when Gene was two weeks old. But Schumer makes no apologies for doing what she loves whenever she wants to — because people can be amazing mothers and also want (and need) to work outside the home too.
"I was so worried about it and was afraid to go back after he was 3 months old. A couple days I've cried from missing him. But it's mostly good to be back and the breaks energize me to be a better mom and appreciate our time even more. I have it a lot easier than many people but I wanted to share my experience," she continued.
It's so refreshing to hear from a mom who loves her job and instead of focusing on the "mom guilt" many of us feel returning to work, she talks about the fact that she's happy to be back being her creative, funny self. She talks about work being energizing for her, making her a better mom for Gene and whatever any mom needs to do to feel like a better mom and better version of themselves is the right thing for them.
Others weighed in and praised Schumer for her honesty:
Schumer has never been one to shy away from telling it like it is. She recently shared a "throwback" picture of the moment she found out she was pregnant with Gene and it's impossible not to cry from laughter when you see it.
It's lovely to see Schumer share her experiences — toilet and all — and to remind us that no matter who we are, we're all in this together.