Amy Schumer Trolls John Krasinski & Emily Blunt Over Their 'Pretend' Marriage
by Christina Marfice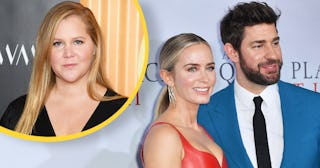 Dimitrios Kambouris/ANGELA WEISS/AFP/Getty
Did Amy Schumer just reveal a deep Hollywood secret about John Krasinski and Emily Blunt's "fake" marriage?
As the U.S. is beginning to open back up, one of the places many people are flocking to that they haven't been able to visit for over a year is movie theaters, where some great films are finally getting a theatrical release after many were delayed or sent straight to streaming. John Krasinski and Emily Blunt finally released the sequel to their hit A Quiet Place over the weekend, and one of the people lucky enough to see it already was none other than Amy Schumer, who shared her thoughts on Instagram.
"I loved every second of @aquietplacemovie even better than the first one which blew me away. Amazing to be in a movie theater," she wrote. "And although I've said for a long time I think Emily and John have a pretend marriage for publicity. But I still think you should see it this rainy weekend."
Hold up. Amy Schumer thinks John Krasinski and Emily Blunt have a fake marriage for publicity? Before that even has a chance to sink in, you should know that John himself responded to Schumer's post — and it looks like he's possibly in on the joke.
"Thank you Amy!…for blowing up our whole marriage spot," he wrote.
You gotta love a man with a sense of humor, because everyone is so obviously joking here. John Krasinski and Emily Blunt are 100 percent couple goals and not-so-low-key obsessed with one another. In fact, just last week, Krasinski opened up a little bit about their relationship during a Q&A sessions at an Australian press screening for A Quiet Place 2.
"Everybody was wondering how it would go working with your spouse and so were we, we were very excited to see how that would go and by excited, I mean terrified," he said. "On the first movie, I found the best collaborator of my entire life. She's not only the best actress but she's someone who puts everyone at ease because she's so unbelievably prepared, unbelievably professional and cares so deeply about the entire process."
He added, "There were days when she wasn't shooting, and she'd still come to set and she'd still see the shots and cheer us on. She is without a doubt, not only the best actress I have or will work with, but she's the greatest collaborator I've ever had."
So that happened. Add in the marriage of 11 years and counting, plus the two kids, and if this marriage is a sham, both Krasinski and Blunt are really committed to the long game.