Amy Schumer Crashes Met Gala In Sweats En Route To Give Birth And TBH She's Our Hero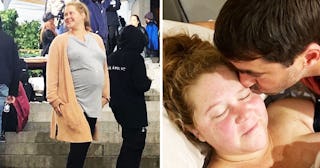 Amy Schumer via Instagram
First Meghan Markle, then Amy Schumer — Monday was a big day for famous babies
Monday was the biggest day for celebrity babies we've had in a long, long time — Amy Schumer and her husband Chris Fischer officially became parents!
Schumer made the announcement on Instagram, writing, "10:55 pm last night. Our royal baby was born." You know, because their son made his arrival to the world within mere hours of Meghan Markle and Prince Harry welcoming their first son. Like we said, it was a big day for celebrity babies.
Thankfully, Amy and Chris aren't keeping things under lock like Meghan and Harry are, so we already have a photo of their new little family member. And oh my gosh, his chubby baby cheeks are everything.
But what truly put Schumer's baby news over the top was what she did right before her son was born. As anyone who's been on the internet today undoubtedly knows, the Met Gala was held last night. And while Schumer was unable to attend officially, because, you know, she was in labor, she did make sure to make an appearance. En route to the hospital. In her sweatpants, tennis shoes and a cozy cardigan.
Yep, she stopped at the Met Gala on the way to the hospital, and blessed us all with a photo of the occasion. In the caption, she wrote, "Met look this year. Last night on the way to the hospital," with a high heel emoji, in case you haven't already snorted into your coffee.
https://www.instagram.com/p/BxIll1WlIO7/
If there is a more Amy Schumer way to announce the birth of your child, we'd like to see it.
The new parents still haven't revealed a lot of details about their new arrival. We don't know his name yet, but from the photos, we can assume that mom and baby are both doing well. And we know that Schumer must be stoked to not be pregnant anymore, since she's been posting very over-it-looking belly shots for the last few weeks and lamenting about how it feels like she's been pregnant forever.
Every mom knows that feeling.
Schumer didn't have a super easy pregnancy, either. She's been open throughout the entire process that her health hasn't been the best, including that she suffered from hyperemesis gravidarum, a form of extreme morning sickness that seriously disrupts an expecting mom's day-to-day life. Still, she's been openly excited about becoming a mom, and now the big day is finally here!
Congrats to Amy and Chris. Your new family looks absolutely perfect, and we hope you're both soaking in every single moment of this new adventure.
This article was originally published on