Amy Schumer's Nude Pregnancy Photos Are #Goals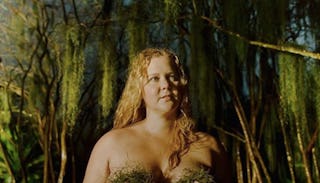 Image via Instagram/Amy Schumer
Amy Schumer's adorable nude pregnancy pics aren't like any we've ever seen
Amy Schumer has had an incredibly hard pregnancy dealing with hyperemesis gravidarum so severe it resulted in being hospitalized and a number of canceled tour dates. That's why absolutely no one would blame her for wanting to take the most fun and freeing pregnancy nudes the world has ever seen.
She literally chased ducks in the nude while spending time in New Orleans — and it's glorious.
"On a chilly Nola morning it's best to chase ducks with nothing weighing you down except a baby. Photo by @heathersten for the @nytimes on a rainy night it's also a good idea. Thank you @zinomanjason for your profile on me. Brutally honest. My favorite kind of honesty. See you in another 10 when you write about me again," she captioned the series of snaps, not all of which are nudes.
She also posed in this adorable plunging v-neck dress.
And with this…piles of grass on her chest? Whatever, she looks fantastic.
She also included a snap taken with a young patient during a visit to Children's Hospital New Orleans where she participated in a Bingo night.
The pregnancy nudes were taken by photographer Heather Sten for a profile on the comic in The New York Times.
"Young me thought this would bring some other level of joy," she tells the publication of her previous ideas of how it would feel to be rich and famous. "I think I will experience that with a baby. But other than that, it doesn't exist."
Of course, fun pregnant nudes aren't a huge surprise from the actress after how open Schumer's been about her entire pregnancy. She's chronicled her struggles with constant morning sickness that left her hospitalized, hooked up to IVs, and at times, unable to perform her comedy shows.
"Texas I am so deeply sorry. I have been really looking forward to these shows. I have to reschedule. I am in the hospital. I'm fine. Baby's fine but everyone who says the 2nd trimester is better is not telling the full story. I've been even more ill this trimester. I have hyperemesis and it blows," she wrote after missing a show due to being sick.
She's also been, quite simply, hilariously honest — showing how most of us regular moms act and look while pregnant.
She even shared the flat-out amazing (and extremely life-like) birth cake her sister-in-law made for her to celebrate her impending addition.
We hope Schumer is feeling well these last few weeks of her pregnancy and that she continues to share it all – yes, even the duck-chasing pregnancy nudes. Especially those.
This article was originally published on