Amy Schumer Shares Video Waving To Her Dad Through Window During NY Lockdown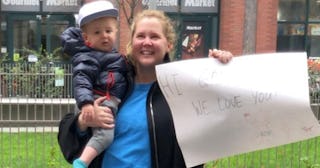 Amy Schumer/Instagram
Amy Schumer and son Gene wave to dad outside his window during New York's intense coronavirus shutdown
Social distancing has made it hard, and in some cases impossible, for family members that don't live together to see one another. Grandparents wave to grandbabies from outside delivery rooms, children announce their engagements to their parents through windows, and for Amy Schumer and son Gene, they made a sign and held it up outside Schumer's dad's assisted living home, tearfully waving to him through the second floor window.
New York, where Schumer and her dad live, has been the hardest hit by the coronavirus outbreak, meaning social distancing is even more urgent in the area now considered the domestic epicenter of the virus.
"Hi Grandpa, we love you," Schumer's sign said as she waved to him from outside.
https://www.instagram.com/p/B-aDlLApdpS/
Social distancing is hard on everyone and Schumer's emotional video is resonating with a lot of people who are far, or cannot hug or see, their parents, grandparents, or other elderly family members.
Schumer's dad Gordon has multiple sclerosis and uses a wheelchair. Schumer previously shared that her dad has had MS since she was 12 and she touched on the reality of that in her semi autobiographical film Trainwreck and makes an effort to spend as much time as possible with her dad, including the time she introduced him to her Snatched co-star, the legend Goldie Hawn.
Schumer has opened up about her dad's diagnosis in the past, saying it's definitely affected how she approaches comedy and why she's so vulnerable onstage.
"It's the most painful thing in the world to just watch this person that you love ultimately just digress and kind of decompose. And it's too heavy and you have to find a way to laugh at it," Schumer told NPR in 2013. "I will, on stage, go to a very dark place and make light of things that are painful. And it makes me feel better to hear about other people's struggles, so I like to share mine."
She later told CBS (via E!) in 2015 that "I love to laugh. I seek laughter all the time. I think that's something that also comes with having a sick parent is you don't know what's going to happen and so I'll be like, 'I'm psyched my legs still work.'"
As for her relationship with her dad, who Schumer says lives in an assisted living center, she says he's "just as hilarious" as he's always been
"When I go see him, it's not heavy. He's happy." Schumer said in the same NPR interview. "They got Comedy Central for him at his hospital so they can watch my show. And the doctors and nurses know who I am now. Because I think, before, the people who were around them, he kind of didn't know how well it was going for me. He just kind of…I think he thought I was like a clown…I think he thought I did birthday parties."
Like so many of us, we're certain Schumer is hoping for a near future where she can hug her dad again.
This article was originally published on