Amy Schumer Is Pregnant With Her First Child!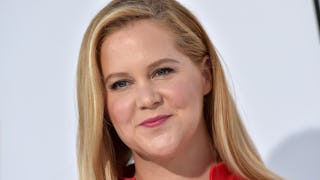 Image via Axelle/Bauer-Griffin/FilmMagic
Amy Schumer used a friend's Instagram Stories to pass along the happy news
Instead of going the usual celebrity route in announcing a pregnancy complete with a sweet photo of a burgeoning baby bump and appropriately sentimental caption, Amy Schumer instead decided to share the baby news while also endorsing a whole slew of political candidates.
The exciting news was transmitted via Schumer's friend, author and journalist Jessica Yellin. She used her Instagram Stories to pass along the info along with a big dose of activism as Schumer highlighted some important candidates that could use our votes in next month's midterm elections. At the very bottom of the list is the casual inclusion, "I'm pregnant — Amy Schumer."
Schumer shouted out a number of politicians running for election (or reelection) including Senators Claire McCaskill, Heidi Heitkamp, Kirsten Gillibrand, and many more for the website News Not Noise. Schumer clearly wanted the moment to be more than the typical famous person pregnancy announcement, as she's been a very vocal activist for various causes, including trying to block the confirmation of Brett Kavanaugh to the Supreme Court.
The actress and comedian alluded to the happy life update to come in an Instagram post of her own that paid homage to another pregnant celeb — Duchess of Sussex, AKA, Meghan Markle, before Yellin's stories went live.
Schumer quipped in a statement to The Los Angeles Times, "Chris and I are thrilled and almost positive he's the father. I look forward to competing with Markle every step of the way." As The Times notes, she comes by her activism honestly as she's the cousin of Senate minority leader Charles E. Schumer and has been tirelessly campaigning for a number of Democratic candidates while also voicing support for women's and transgender rights.
It's not surprising that Schumer went pretty low-key with her baby news — after all, she got married in total secrecy earlier this year. While no one would've blamed the actress for enjoying her momma moment in the sun and basking in the glow of such a special time, it's admirable that Schumer chose to instead use her platform and voice to give visibility to candidates she believes in.
This article was originally published on