Amy Schumer Hospitalized Because Of Hyperemesis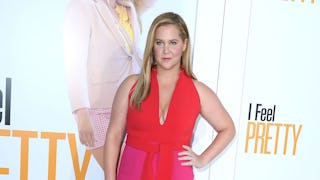 Image via Axelle/Bauer-Griffin/Getty
The comedian had to cancel a tour appearance due to hyperemesis
Amy Schumer is currently expecting her first child with husband Chris Fischer, and is also currently on tour. She reveals on Instagram that she's had to cancel an appearance in Texas because she's also currently in the hospital, suffering from a common but miserable pregnancy-related condition.
"Texas I am so deeply sorry," Schumer writes on Instagram. "I have been really looking forward to these shows. I have to reschedule. I am in the hospital. I'm fine. Baby's fine but everyone who says the 2nd trimester is better is not telling the full story."
She reveals she has hyperemesis gravidarum, a condition affecting less than three percent of pregnant women that is marked by severe nausea, vomiting, weight loss, and dehydration during pregnancy. You'll probably recall Kate Middleton suffering from hyperemesis gravidarum throughout each of her three pregnancies.
Schumer shared the news of her pregnancy last month by using her Instagram Stories to pass along the info amid a huge list of political candidates and encouragement for everyone to get out and vote in the midterms. Now that's some serious activism — with a dual purpose.
Schumer quipped in a statement to The Los Angeles Times, "Chris and I are thrilled and almost positive he's the father. I look forward to competing with Markle every step of the way."
In her post from her hospital bed, Schumer notes that she's "very lucky to be pregnant" but being so ill is absolute bullsh*t.
"Sending so much love to the doctors and nurses taking great care of me and Tati," she notes. "They are cool as hell! And Texas I am really really sorry and I'll be out there as soon as I'm better."
We're wishing her a speedy recovery and a pleasantly puke-free third trimester.