Amy Schumer Rips Into Trump At Biden-Harris Rally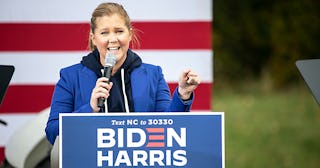 Jeff Hahne/Getty Images
Amy Schumer joined Joe and Jill Biden for the presidential hopeful's North Carolina rally over the weekend
It was a busy weekend for Amy Schumer. Not only was the comedienne and devoted mom dressing up her adorable son, Gene, in his too-cute-for-words Halloween costume, but she was also busy on the campaign trail. Schumer joined the campaign trail for presidential hopeful Joe Biden with his wife, Jill, in Charlotte, NC, where she spoke on behalf of the democratic politician and ripped into current President Donald Trump. She also used her platform to tell some Halloween horror stories frightfully based on truth about the current leader of our country.
Schumer took to the stage dancing, revealing it "was a dream" to be speaking on behalf of Biden. "I know I might not look like I'm dressed up, but I swear to you, this is the first time I have worn a bra in seven months," she joked. "I'm in costume."
"We are ready for the sun to come out again," she said, as she got the crowd riled up and attempted to motivate them to head to the polls and cast their votes for Joe and Kamala Harris, on the final day of early voting.
"Every day is Halloween for Donald Trump based on bronzer alone," she started in her rip into the president. "His face always makes me think about the fall and crave a latte."
She then continued in her snarky, Schumerish humor to tell a real-life scary story about politics.
"Here is a Halloween story for you. It happened in 2016," Schumer said. "More than 800,000 registered Democrats did not vote, and Donald Trump won this state by fewer than 200,000 votes. That is a scary story, I know."
"Have you also heard the story about the megalomaniac president who owed millions of dollars to foreign governments all over the world?" she continued. "Who encouraged hate crimes and the violation of women? A president who knowingly spread a lethal virus to his friends and family? That's too scary right? Putting our front line workers through the most traumatic time of their lives."
https://www.instagram.com/p/CHBsOK2phhm/
Dr. Biden also spoke on behalf of her husband, saying, "I promise you North Carolina, Joe Biden will be a president for all Americans. He has a plan to end this pandemic, to rebuild, to reimagine a future that's better than ever."
She also reminded them of the importance to vote — especially because North Carolina is a swing state.
"One state, this state, can decide our future for generations to come," she said. "So, Charlotte, will you be that one vote? Will you join us now? Will you stand with Joe Biden and Kamala Harris? With you by our side, I know we are going to win this election."
Earlier in the day, Schumer shared a snap of her son, Gene, dressed up as a dragon, as well as photos taken from the rally.
And, because Schumer is basically the gift that keeps on giving, she also shared a video, revealing that Jill Biden gifted her a Halloween costume: the fly that landed on Mike Pence's head.
If you haven't voted yet, please head to the polls on Tuesday. Every vote counts!
This article was originally published on