Amy Schumer and Venus Williams Exercise With Champagne Bottles On Instagram Live
by Madison Vanderberg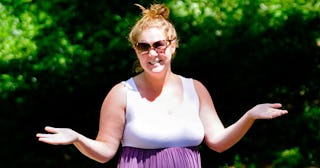 Gotham/Getty
Amy Schumer squats with a magnum of champagne in Instagram Live exercise session with Venus and Serena Williams
As the country is being forced to social distance, shelter-at-home, or in some cases, completely quarantine, many fitness instructors have pivoted to livestreaming their workouts so we can all follow along in our living rooms. Despite previously joking that "the gym was cancelled," Amy Schumer linked up with Tennis pros Venus and Serena Williams for an at-home workout using wine and champagne bottles for dumbells.
Venus Williams has been live-streaming her pro exercise routines on Instagram every week day at noon and on Friday, March 27, 2020, her sister Serena and comedienne Schumer "joined her" online from their respective living rooms for the bootcamp.
The tennis star typically uses household items as weights, like gallon water bottles and wine bottles, but when Schumer beamed into the IG Live from her own home, she insisted on using what appeared to be a magnum bottle of champagne as a dumbbell.
Schumer led the "champagne" portion of the workout, using the bottle in a typical overhead tricep workout, but when she — for some reason — put the bottle literally on her head, Williams' lost it, breaking into a fit of laughter.
"Sometimes, you gotta put it on your head, and that's good," Schumer joked, before adding, "When we go low, the champagne goes high."
While doing squats with the champagne magnum, Schumer laughed, "I do this anyway."
Schumer then switched to lifting two wine bottles for bicep curls, saying the wine bottles can also work with "calf raises" and as "practice for nighttime."
"Practice for what you do at night. It's how I keep myself in mediocre shape," Schumer laughed.
At the end of livestream, Williams asked Schumer if she had any other wellness tips while social distancing and Schumer deadpanned, "Hopefully you have some edibles. And that's kind of the best we can hope for."
In all seriousness, most states have ordered non-essential businesses, like gyms, to shut down and for citizens to stay indoors. So if you need some motivation to stay active while stuck inside, who better to do that than world class athlete Venus Williams, who leads workouts every weekday on Instragram Live at noon ETS. Who knows which celeb will join her next.