This Impressively Patient Husband Shows Us What Real Love Looks Like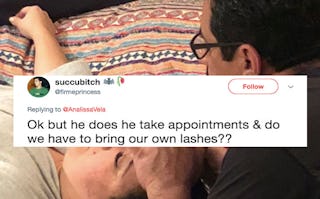 Image via Twitter/Analissa Vela
Sometimes love means never saying no to fabulous lashes
Part of being married means doing nice things for our spouse whether we actually enjoy doing them or not. Holding purses, giving foot massages, or being the perfect Instagram husband are all pretty solid examples of these little courtesies we offer each other in marriage.
But one husband is here to outdo all of the above.
Because if being your wife's personal false eyelash application guru isn't true love, we don't know what is.
Analissa Vela recently shared a few photos of her adorable mom and dad on Twitter — and the dedication and love shown by her dad, Juan Vela Sr. for his wife Marciela, is truly something to behold.
"My mom bought individual eyelash extensions and the glue for them, and now my dad has been sitting there gluing each eyelash on my mom and listening to her music for over an hour," Vela writes. "If that ain't love, then I don't know what is."
Damn. Get you a partner who tenderly helps you with your beauty routine like Analisa's dad does with her mom.
The best part? Marciela's lashes are ON POINT.
The initial tweet quickly went viral, because it's the purest demonstration of love ever. Twitter agrees.
https://twitter.com/jetpack/status/959001932885934080https://twitter.com/jetpack/status/958753944234110976
Others were quick to share how their own partners show their love in similar ways.
https://twitter.com/jetpack/status/959265031962660865https://twitter.com/jetpack/status/959164140714627075https://twitter.com/jetpack/status/959060251289911296
If you're wondering how the Velas feel about the whole world knowing about their adorable relationship (and lashes), Analissa says at first her dad was "a little embarrassed" by the huge reaction her tweet received.
"Once my parents saw all the positive feedback and all the girls who were looking up to my parents as a couple, he was happy," she tells Scary Mommy. "Overall it's been very positive and it's just been very sweet to see the Internet react so kindly."