Even Anderson Cooper Is Left Speechless By Amanda Gorman
by Leah Groth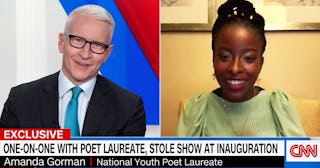 CNN/YouTube
Amanda Gorman, the poet laureate who skyrocketed to fame after reciting her now-famous poem at the inauguration, has left Anderson Cooper "transfixed"
Without a doubt, Amanda Gorman was the breakout star of the Presidential inauguration. In just a few days, she went from being a virtually unknown poet laureate to probably the most well-known in the country, dazzling millions of Americans with her work of literary art, "The Hill We Climb." During a post inaugural interview with the young poet, CNN's Anderson Cooper, who has interviewed the most brilliant minds in the world, admits that even he is left speechless by her brilliance.
On Thursday, the esteemed journalist invited the 22-year-old to virtually sit down with him and discuss her now-legendary poem. Gorman revealed to Cooper that she had a personal mantra she recites before every performance.
"Whenever I perform — and I definitely did it this time — I close my eyes and I say, 'I'm the daughter of Black writers,'" Gorman said. "We're descended from freedom fighters who broke their chains and changed the world. They call me."
"Wow, you're just, you're awesome," Cooper replied. "I'm so transfixed."
During the interview, Gorman also discussed the speech issues she recently overcame through her writing. "I'm proud to be in the speech-difficulty club with you and President Biden and also Maya Angelou," she said. However, it wasn't a stutter that Gorman struggled with, but pronouncing specific letters of the alphabet, particularly the letter "R." Lin-Manuel Miranda's "Aaron Burr, Sir," a song from Hamilton, helped her work through it.
"[I] would try to keep up with Leslie Odom Jr. as he's doing this amazing rap," she added. "If I can train myself to do this song, then I can train myself to say this letter. That's been a huge part of my own speech pathology. It's why I included it in the inaugural poem. Also, beyond that, I think Hamilton is such a great American cultural piece about what it means to be a better country."
The day of the inauguration, two of Gorman's books — The Hill We Climb: Poems and the children's book Change Sings: A Children's Anthem — shot to the top of Amazon's best sellers and are quickly selling out.
She admitted to Cooper that she is "overjoyed" by the reception to her performance and will be "processing it for a while."
"What a day. What a life. Thank you. Thank you. Thank you," she added on Instagram Thursday.
According to The New York Times, Gorman had been struggling to write "The Hill We Climb" for weeks. However, on Jan. 6, the Capitol riots gave her the inspiration she needed to finish it in a single day, adding some of the most powerful lines:
We've seen a force that would shatter our nation rather than share it,
Would destroy our country if it meant delaying democracy.
And this effort very nearly succeeded.
But while democracy can be periodically delayed,
It can never be permanently defeated.