Anderson Cooper Slams Trump's Comments While Fighting Back Tears
by Cassandra Stone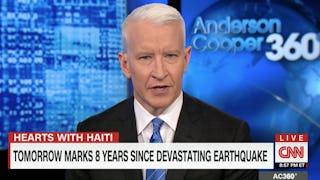 Image via Twitter
Cooper also didn't shy away from calling the president's remarks "racist"
Though Trump's most recent racist remarks — where he referred to Haiti, El Salvador, and African countries as "shithole countries" — are hardly surprising, they're still infuriating. CNN's Anderson Cooper choked back tears while delivering powerful commentary on the people of Haiti, whom he has come to know well through visiting the country several times over the years.
"Let me be clear tonight," Cooper said. "The people of Haiti have been through more — they've been through more, they've withstood more, they fought back against more injustice than our president ever has."
Cooper spoke about visiting the country as a journalist in the immediate aftermath of the devastating earthquake of 2010, which resulted in roughly 230,000 Haitians losing their lives. While there, he witnessed a five-year-old boy named Monley get rescued from the rubble after being trapped underneath the rubble for more than seven days. SEVEN DAYS.
"Do you know what strength it takes to survive on rainwater buried under concrete — a 5-year-old boy buried for seven days?" Cooper's emotion was palpable as he opened up about his love and respect for people who live in a country our president called a "shithole."
"Haitians slap your hand hard when they shake it," Cooper continued. "They look you in the eye, they don't blink, they stand tall, they have dignity. It's a dignity many in this White House could learn from. It's a dignity the president, with all his money and all his power, could learn from, as well."
Well, damn. Isn't that the truth?
Cooper also wasn't afraid to refer to the president's disparaging remarks as "racist." He made it clear they're "not racial, not racially charged. Racist."
Since we can't expect more from the president when it comes to matters of, well, just about anything, but the matter of race in particular — we have to expect more from members of the media. People on Twitter came forth to share their wishes for more journalists, news stations, and newspapers to follow Cooper's lead and not shy away from calling the president what he is: a racist.
After Cooper finished dropping the truth and hitting us with an emotional gut-punch, he ended his segment with a poignant message to the people of Haiti.
"On the anniversary of the earthquake, on this day when this president has said what he has about Haitians, we hope the people in Haiti who are listening tonight in Port au Prince, Jacmel, Miami and elsewhere — we hope they know that our thoughts are with them, and our love is with them."