Two More Women Accuse Andrew Cuomo Of Inappropriate Behavior
by Julie Scagell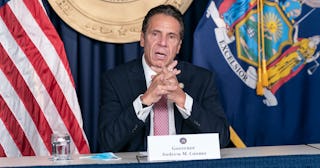 Lev Radin/Pacific Press/LightRocket via Getty Images
A total of four former aides have now come forward
Two more women have come forward accusing Gov. Andrew Cuomo of behaving inappropriately while they worked for him. Their accounts make a total of four former aides and one additional woman who met Cuomo at a wedding who have accused him of sexual harassment.
The claims were made Saturday in the Wall Street Journal and the Washington Post by Ana Liss and Karen Hinton, respectively. Both accounts are similar to those made by former Cuomo aides Charlotte Bennett and Lindsey Boylan. Lisa told the WSJ that Cuomo asked her if she had a boyfriend, called her sweetheart, and touched her on her lower back. She also said he kissed her hand when she was getting up from her desk. Liss served as a policy and operations aide to Cuomo between 2013 and 2015.
Hinton, a former press aide, told The Post Cuomo asked her to his hotel room and embraced her after a work event in 2000, when Cuomo led the U.S. Department of Housing and Urban Development and she was a consultant. She said she pulled away from Cuomo, but he pulled her back toward him, holding her there before she eventually backed away and left his room.
"It was inappropriate. We both were married. I worked for him and it was too much to make it so personal and intimate," she told NBC New York.
Prior to these accusations, Charlotte Bennett, a 25-year-old former staffer, claimed Cuomo talked about his willingness to have relationships with women in their twenties. Lindsey Boylan, another former aide, also came forward to accuse the governor of sexual harassment, saying he kissed her in his office in 2018. She outlined her account in a published essay on Medium, in which she detailed her time working in Cuomo's office, including when she said he invited her to play strip poker on a government plane, and another time when he described her as another woman's "better looking sister."
Liss said she initially believed Cuomo was just a harmless flirt. Over time, she said, she began to find his actions patronizing, adding it diminished her "from an educated professional to just a skirt."
"It's not appropriate, really, in any setting," she said.
Rich Azzopardi, a senior adviser to Cuomo, said Saturday of Lisa' accusations: "Reporters and photographers have covered the governor for 14 years watching him kiss men and women and posing for pictures. At the public open-house mansion reception, there are hundreds of people, and he poses for hundreds of pictures. That's what people in politics do."
"I understand that sensitivities have changed and behavior has changed, and I get it," Cuomo said earlier this week. "And I'm going to learn from it."
Rep. Elise Stefanik (NY-21) is calling for Cuomo's resignation over the allegations. State Sen. John Mannion and Assemblymember Pamela Hunter also made statements related to the allegations.
"All sexual harassment accusations should be taken seriously," Hunter said. "Workplace sexual harassment, no matter where it occurs, is entirely unacceptable."