Andrew Cuomo To Out-Of-State Healthcare Workers: 'Come Help Us, Please'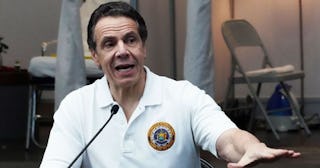 BRYAN R. SMITH/Getty
New York Governor Andrew Cuomo is asking healthcare workers from across the country to come help out in New York as the state has been ravaged by the novel coronavirus pandemic
As the novel coronavirus pandemic continues to devastate the country, there is one state that is truly feeling the wrath of the highly infectious and deadly virus: New York. On Monday, Gov. Andrew M. Cuomo made the shocking and sobering revelation that 66,497 people had tested positive in New York and 1,218 people have died due to COVID-19 — up from 965 Sunday morning. He also made a plea to healthcare workers across the nation to come help the state fight the battle on the front lines.
"Please come help us in New York now," Cuomo told a briefing at a makeshift hospital at the Jacob K. Javits Convention Center in Manhattan. "We need relief."
He also explained the importance of unity, despite political affiliations. "In this situation, there are no red states and there are no blue states and there are no red casualties and there are no blue casualties. It's red, white and blue. This virus doesn't discriminate," he said.
"There is no American who is immune to this virus," he added. "I don't care if you live in Kansas. I don't care if you live in Texas. There is no American that is immune."
"What is happening to New York is not an anomaly. There is nothing about a New Yorker's immune system that is any different from any other American's immune system. So in many ways, New York is just a canary in a coal mine."
He also likened healthcare professionals to "soldiers," explaining that recruitment is crucial. "We need to recruit more healthcare workers," he said. "We need to share healthcare professionals within this state and within this country. As governor of New York I am asking healthcare professionals across the country, if you don't have a healthcare crisis in your community, please come help us in New York now."
Additionally, Cuomo took to social media to make his plea. "I am asking healthcare workers across the country: If things are not urgent in your own community, please come to New York. We need relief for nurses. We need relief for doctors," he wrote, sharing a link for more information for interested healthcare workers. "We will return the favor in your hour of need."
Cuomo's plea comes just days after President Donald Trump denied his request for more ventilators to save critically ill coronavirus patients.
"I have a feeling that a lot of the numbers that are being said in some areas are just bigger than they're going to be," Trump told Fox News' Sean Hannity. "I don't believe you need 40,000 or 30,000 ventilators. You know, you go into major hospitals sometimes, they'll have two ventilators. And now all of a sudden they're saying can we order 30,000 ventilators?"
Trump added, "Look, it's a very bad situation. We haven't seen anything like it, but the end result is we've got to get back to work, and I think we can start by opening up certain parts of the country."
Information about COVID-19 is rapidly changing, and Scary Mommy is committed to providing the most recent data in our coverage. With news being updated so frequently, some of the information in this story may have changed after publication. For this reason, we are encouraging readers to use online resources from local public health departments, the Centers for Disease Control, and the World Health Organization to remain as informed as possible.