Former Aide To NY Gov. Andrew Cuomo Accuses Him Of Sexual Harassment
by Christina Marfice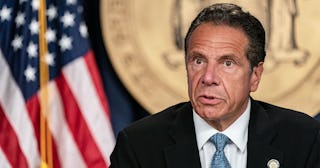 Jeenah Moon/Getty
New York Governor Andrew Cuomo has been accused of sexual harassment, including allegedly kissing an aide in 2018
New York Governor Andrew Cuomo is already under serious fire in his state for allegedly mishandling the coronavirus crisis and vaccine rollout. More recently, he's been accused of allegedly covering up the state's number of deaths that occurred in nursing homes. And now, a former aide has come forward to accuse the governor of sexual harassment, including saying he kissed her in his office in 2018.
Lindsey Boylan published an essay on Medium on Wednesday, in which she detailed her time working in Cuomo's office, including a number of interactions with the Governor, like when she said he invited her to play strip poker on a government plane, or when he described her as another woman's "better looking sister." Boylan published an email from 2016 in which another aide talked about that comment, and said that Cuomo began referring to her as the other woman's name in professional settings.
This isn't the first time that Boylan has made accusations like these. She first publicly accused Cuomo of sexual misconduct in December, in a series of tweets. At the time, she said many others in the governor's office saw what was going on, and no one ever intervened.
In her Medium post, Boylan, who is now a candidate for Manhattan Borough President, revealed new details about an incident she alleges happened in 2018, when she and Cuomo were alone in his office in Manhattan.
"As I got up to leave and walk toward an open door, he stepped in front of me and kissed me on the lips," Boylan wrote. "I was in shock, but I kept walking."
She also wrote that in her early days in her position with the Governor's office, her boss told her that "the governor had a 'crush' on me," and that Cuomo often went "out of his way to touch me on my lower back, arms and legs."
During a news conference last year, soon after Boylan first made her accusations on Twitter, Cuomo addressed them.
"Look, I fought for and I believe a woman has the right to come forward and express her opinion and express issues and concerns that she has," he said at the time. "But it's just not true."
Many New York politicians are calling for an investigation into the claims. "The allegations are troubling and warrant a full investigation," Rep. John Katko said in a statement. "There is absolutely no place in our society for sexual harassment of any kind."
Assembly Minority Leader Will Barclay agreed. "The allegations we have heard today against Gov. Cuomo are disturbing & warrant an immediate investigation," he said in a statement.
Rep. Elise Stefanik (NY-21) is calling for Cuomo's resignation over the allegations. State Sen. John Mannion and Assemblymember Pamela Hunter also made statements Wednesday related to the allegations.
"All sexual harassment accusations should be taken seriously," Hunter said. "Workplace sexual harassment, no matter where it occurs, is entirely unacceptable."
In a new statement, his office continued to deny the accusations. According to Cuomo's press secretary, Caitlin Girouard, "Ms. Boylan's claims of inappropriate behavior are quite simply false."
As Boylan said in her essay, "Telling my truth isn't about seeking revenge. I was proud to work in the Cuomo administration. For so long I had looked up to the governor. But his abusive behavior needs to stop."