Andrew Yang Brought To Tears By Grieving Mom's Question About Gun Violence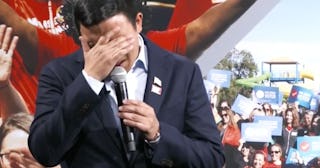 C-Span
Democratic presidential hopeful Andrew Yang broke down in tears while discussing gun violence at a forum in Iowa
As our country is ravaged by gun violence and mass shootings, it's rare to see our leaders react with anything approximating empathy. Our current president reacted to the El Paso shooting by bragging about the size of the crowd that turned out to see him in the aftermath. One presidential hopeful showed the kind of concern and care we expect to see when parents talk about the children they lost due to gun violence. At the Everytown for Gun Safety event in Des Moines, Iowa on Saturday, August 10, 2019, Democratic presidential hopeful Andrew Yang was brought to tears when a mom shared the tragic story of how gun violence ended her four-year-old daughter's life.
"My beautiful four-year-old daughter Dayla was struck by a stray bullet," Stephanie Pizzoferrato said of the tragic March 2011 event. "My son — my daughter's twin brother — witnessed what happened that day. She died two days later."
Yang immediately asked the mother if he could hug her and then he broke down in tears.
"I have a six and three-year-old boy. I was imagining it was one of them that got shot and the other saw it. I'm so sorry," Yang said, before pausing to weep. "The biggest downside of running for president for me is that I don't get to see my family very much. So I get pictures, I FaceTime, I see pictures of my boys and just that scene that she described, I'm sorry, it's just very, very affecting."
Not surprisingly, his honest reaction struck a chord with voters.
https://twitter.com/jetpack/status/1160383298230784000https://twitter.com/jetpack/status/1160383816130813952https://twitter.com/jetpack/status/1160393863166603264
Sadly, stories of children gaining access to their parent's firearms and accidentally shooting themselves or another minor are all too common and Pizzoferrato shared her story because she wanted to know how Yang plans to address unintentional shootings by children.
Pizzoferrato noted in her address that firearms are the second leading cause of death for US children and teens and according to the Children's Hospital of Philadelphia Research Institute, "Among children, the majority (89%) of unintentional shooting deaths occur in the home. Most of these deaths occur when children are playing with a loaded gun in their parent's absence."
Yang's plan is to allow gun owners to upgrade their guns — free of charge — to "personalized" guns aka "smart guns." Smart guns have fingerprint readers making it impossible for a child, or any other unauthorized user, to use it.
"If we can convince Americans that personalized guns are a good idea then…if the child gets ahold of the gun then they can't do anything with it," he said. "Then it just becomes a very heavy, expensive prop. One of my proposals is to actually help gun owners upgrade their guns to personalized guns free of charge."
Yang's empathetic reaction and common sense gun proposition is a breath of fresh air. We'd like to see more of this from congress.
This article was originally published on