Andy Cohen Shares First Pic Of Baby Boy: 'I'm So In Love'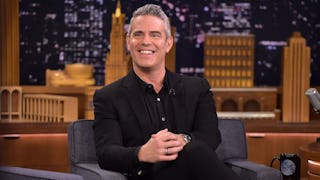 Image via Theo Wargo/Getty Images
Andy Cohen's officially a dad
Back in December, Watch What Happens Live host Andy Cohen shared with his viewers that he was going to be a dad via a surrogate mom. His emotional announcement basically made our hearts explode and now, he's officially a dad after the birth of sweet Benjamin Allen Cohen.
The little guy was born just last night — and Cohen wasted no time sharing his proud new dad moment with his followers on Instagram. Even though we can't see his undoubtedly perfect baby face, the photo of the loving father and his son speaks volumes.
Cohen captioned the sweet snap, "WOW! This is my son, Benjamin Allen Cohen. He is 9 lbs 2 ounces !! 20 inches !! Born at 6:35 pm, PT He is named after my grandfather Ben Allen. I'm in love. And speechless. And eternally grateful to an incredible surrogate. And I'm a dad. Wow."
Anyone else getting a bit misty? This is one lucky baby.
An emotional Cohen gathered a crew of Real Housewives to announce his big news back in December. "Tonight, I want you to be the first to know that after many years of careful deliberation, a fair amount of prayers and the benefit of science — if all goes according to plan in about six weeks time I'm going to become a father," he revealed.
And once again, the women showed up in droves when the time came for his totally extra baby shower. The event looked like a blast, but the love his circle has for him (and his new son) shown through.
This baby boy is going to have so many fabulous aunties. Can we even imagine how incredible his first birthday party will be?
The women of Real Housewives are already sending out so much love and many mazels to Cohen as his happy news spreads.
All the best wishes to Cohen as he adjusts to new dad life. We have no doubt he'll nail it.
This article was originally published on