Andy Cohen Debuts His Baby In PEOPLE Spread
by Valerie Williams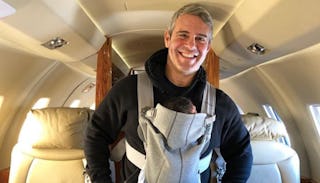 Image via Instagram/Andy Cohen
The first photo of Andy Cohen's baby boy is here — and it's too cute
It's been a thrilling start to 2019 for Watch What Happens Live host Andy Cohen. He shared the huge news with his audience at the end of 2018 that he was going to be a dad, and now that his baby boy is here, he's on top of the world — and once you see this little guy's face on the cover of PEOPLE magazine, you'll know why.
Cohen debuted the first photos of his son Benjamin Allen in the February 25 issue of PEOPLE. He shared the magazine's cover, featuring him holding his sweet bundle, on his Instagram page. "This is my son!!" he writes in the caption. "I grew up reading @People cover to cover, at a time when being gay meant there was no way to have a family. Now I'm honored to be the first gay dad featured on the magazine's cover."
Our hearts may never recover due to both the extreme adorableness of Benjamin's precious baby face and Cohen's obvious joy. He's clearly smitten with his new son, born February 4 via surrogate mother, and it's the sweetest thing to see.
Cohen tells the mag that one very cute hope he had for his son definitely came true. "I was in the delivery room. I had been hoping that he would have a full head of hair, and he really overdelivered," he jokes. "That was the first thing you see, the head of hair coming out. And I was amazed." The new dad was able to cut the cord — and then, just bask in the glow of new fatherhood. "He was so alert for the first two hours. His eyes were wide open. He didn't cry; he was just calm," he recalls. "I kind of have no words for it."
He also gave PEOPLE some sweet details about the months leading up to Benjamin's birth. "I think the biggest moment for me in the process was this summer," he tells them. "I was shooting the Southern Charm reunion and we were on a lunch break, and my surrogate texted me a video of the first sonogram. I was in my dressing room in tears. That was the moment for me where I was like, whoa."
Cohen opened up about the surrogacy process sharing that he "worked with an organization that helps you find the egg donor and the surrogate, and you kind of package the whole process."
"I worked with an incredible surrogate," he shares. "She was in California. Surrogacy is illegal in so many states, including New York. I don't understand why. It's a voluntary process, obviously. My surrogate just viewed it as, she was giving me the ultimate gift. She gave me life. So I'll be forever indebted to her."
Before Benjamin came the world's most extra baby shower, attended by just about every Real Housewife in the land. It was everything you'd expect a baby shower full of Real Housewives to be — and more.
This sweet little guy has so many aunties who probably can't wait to spoil him, and we're here for it.
Cohen says that becoming a father at 50 means he has "a sense of calm" he didn't possess when he was younger. He also shared some thoughts on what kind of dad he'll be. "I think I will be [a] strict [dad], but I have a sense of what to get hysterical about and what to let slide," he says. "I don't want to be a helicopter dad. I don't want to stress him out. I don't want to stress myself out."
"Well, that's already happened," he admits. "That's just part of the job."