Andy Cohen Shares Video Of The Moment He Met His Sweet Son
by Thea Glassman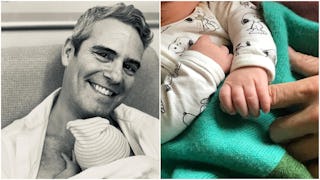 Image via Andy Cohen/Instagram
Andy Cohen shared video footage of him meeting his baby for the first time and it is the cutest
Are you prepared for an overload of sweetness and sunshine on this cold, cold day? Andy Cohen shared a video of himself just a few minutes after meeting his newborn son, and your heart (+ ovaries) will explode a little. Much, much more Andy Cohen baby content, please.
Cohen returned to his talk show Watch What Happens Live after taking a one-week paternity leave and thanked his fans for all their support. "So many of you have been asking about my son. I am so appreciative of all your good wishes," he said. "Thank you from the bottom of my heart."
Then, Cohen shared some footage of himself with his baby boy Benjamin, a few minutes after meeting him for the first time. Needless to say, the video was packed with a whole lot of smiling and adorableness and teeny tiny baby squirming.
"He is a lovely boy, he is cute as a button, and I am falling more in love with him every day," Cohen said. The talk show host added that Benjamin seems very happy and has been drinking lots and lots of milk. Also, he's burping and "making poops," sooooo sounds like everything is pretty much right on track.
"My diaper-changing skills aren't that bad but the swaddling has me a little perplexed!" Cohen concluded, and, I mean, fair enough but it looks like he's doing just fine.
Benjamin was born on February 4th through a surrogate, and Cohen has offered a few sneak peeks into his baby's new life, including a trip on a private jet and a photo spread in PEOPLE Magazine. Ya know, the usual.
In a recent interview with TODAY, Cohen shared just how much his life has changed during these first few weeks of fatherhood – in ways both big and small.
"I look at him the way I used to look at Instagram," he said. "I just sit and stare at him. I'm like, 'Well, this is more interesting than a bunch of hot guys on my feed.'"
And then there are the even more profound moments.
"There is a comfort in knowing that he's there waiting for me," Cohen said. "I went out for my first night away from him, just for dinner with friends the other night, and I was sitting there and I realized, 'Wow! I love it that he's there at home for me.' It's an anchor. It's my family. I was like, 'I love this feeling.'"
Nope, not emotional at all right now.
All the mazels to Cohen on his baby boy and brand new fatherhood journey. More pictures of swaddling and private jets and just general Andy Cohen/Benjamin adorableness, please.