Andy Cohen Reveals He Tested Positive For Coronavirus
by Kristine Cannon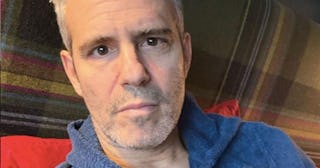 Andy Cohen/Instagram
Andy Cohen shared the news on Instagram
Watch What Happens Live (WWHL) host Andy Cohen revealed on Instagram that he tested positive for coronavirus.
"After a few days of self-quarantine, and not feeling great, I have tested positive for coronavirus," Cohen captioned a selfie of himself from home. "As much as I felt like I could push through whatever I was feeling to do #WWHL from home, we're putting a pin in that for now so I can focus on getting better."
Just hours prior, Cohen announced that he was moving his late night talk show, WWHL, to his New York City apartment. He was going to launch the show — which he called WWHL @ Home — on Sunday evening with actor Jerry O'Connell, Real Housewives of Atlanta star Nene Leakes, and Real Housewives of New York City star Ramona Singer as virtual guests. Monday, he planned to bring in John Mayer as a guest, but now the show is on hold. The WWHL announcement followed New York Governor Andrew Cuomo's work-from-home orders.
Celebrities such as Mayer, Sarah Jessica Parker, Kelly Ripa, Busy Philipps, and more wished Cohen well. "Rest up. Love you with all my heart," Mayer wrote.
Cohen isn't the only celebrity who has opened up about their coronavirus diagnosis. Tom Hanks and Rita Wilson were among the first celebs, followed by Idris Elba, James Bond's Olga Kurylenko, Frozen 2's Rachel Matthews, Game of Thrones' Kristofer Hivju, New Amsterdam's Daniel Dae Kim, and, more recently, The Bachelor's Colton Underwood. Many athletes, as well, tested positive, including Utah Jazz's Donovan Mitchell and Rudy Gobert, New Orleans Saints' Sean Payton, and more. New York alone has more than 7,800 confirmed coronavirus cases. Worldwide, however, there are more than 250,000 confirmed cases of the virus.
"I want to thank all the medical professionals who are working tirelessly for all of us, and urge everybody to stay home and take care of themselves," Cohen wrote on Instagram.
This article was originally published on